Kevin McCoy began his radio career in 1992 at KYNG/KNBT New Braunfels as a mid day Country Show Host. He got his first taste of Country Radio when Jerry Jeff Walker came to the station for an unannounced on-air interview. Being the only warm body around, Kevin obliged and fell in love with Texas Country Radio. Kevin has also worked in Dallas Radio as a host at KYNG Young Country. He was featured on ABC Radio Network's Real Country where his Classic Country Show was heard on 160 markets across the US.In April of 2008, as the Program Director and an On-Air host of KFWR 95.9 The Ranch Fort Worth, Kevin McCoy decided that no more Nashville Music would be played on the station. Launching the first major market 24/7 Texas Country Station. Through the years, Kevin McCoy has become instrumental in launching Texas Music careers for many of the Top names in in the industry. He won the Large Market Station of the Year and Radio Personality Four Times from the Texas Regional Radio Awards and continues to live and breathe real Country Music. Listen afternoons on 97.5 KFTX Real Country.
March 30, 2023
Well now, this is certainly something we were not expecting to see in 2023 or any other year, but here we go. There is a new film being released that chronicles Garth Brooks meeting George Jones before George is scheduled to be cryogenically frozen in 1994. Called Country Gold, the film stars actor Ben Hall as George Jones, and writer/director Mickey Reece as "Troyal Brux" who is a rising 90s country music superstar in printed shirts—a.k.a. Garth Brooks, but probably due to Garth's litigious nature, the name is changed. Troyal is Garth's real first name.

Characterized as a something between a surreal comedy and fantasy film, the plot unfolds as Troyal Brux is blowing up in country music, and cites George Jones as his primary influence in interviews. Jones catches wind of the endorsement, and invites Brux to meet him in Nashville on the eve of going on an "extended vacation," i.e. going into the deep freeze. While in Nashville, the two have a wild night together, with Brux excitedly meeting one of his idols, and Jones imparting important wisdom to the young star.

Clearly, a lot of this plot is pretty absurd on the surface, but that doesn't mean there aren't more substantive and touching moments underneath. One of the subplots is how George Jones points out to Troyal Brux all the folks who play country music, but never get their opportunity in the spotlight, while Jones's own life illustrates the trappings and finite nature of stardom.

There has been no press about this film outside of the indie film realm. But after debuting at indie film festivals Fantasia and Fantastic Fest, and playing in select theaters this month, the reviews have been surprisingly positive. Country Gold holds an 89% rating on Rotten Tomatoes, and a 100% positive audience score. As Anton Bitel of Projected Figures states,

" …this night of sex and drugs and country-and-western encompasses the arrogance of success, the fleetingness of celebrity and the ravages of time itself. And like all the best country songs, it comes steeped in melancholy and regret."

So who knows, maybe this film has got something. Mickey Reece is an acclaimed indie filmmaker from Oklahoma who has explored musical themes in film previously, including in Mickey Reece's Alien, which despite the title, was about the relationship between Elvis and Priscilla Presley. Still, audiences should go into it understanding this is an independent film shot in black and white, not a big budget production.

Country Gold was shown in a limited run of very select theaters in March, and is currently being screened at the Rodeo Cinema in Oklahoma City and the Circle Cinema in Tulsa until April 3rd. The film premiers on the indie film streaming service Fandor on April 4th.https://www.youtube.com/embed/gMHp4z0bvNM
© 2022 Saving Country Music
Kevin McCoy March 16, 2023
Robert Earl Keen took his final bow as a live performer at 12:48 in the morning on September 5th, 2022 at the legendary Floore's Country Store in Helotes, TX. At 67 years old, you may not want to believe that Keen has really hung up his spurs for good. But Robert Earl has avowed that he means it, and so far, no new tour plans or appearances have materialized.

But the Texas country legend did qualify at the time that he wasn't done writing and creating. "Quitting the road doesn't mean I'm dead, and it doesn't mean I'm going to quit producing stuff" he said at the time.

In November of 2020 during the pandemic, Robert Earl Keen and his band played a one-off 14-song streaming event on nugs.net called Western Chill featuring a few new songs from Keen, as well as songs from his bandmates. It was recorded in Keen's "Snake Barn" on his ranch in Medina, Texas.

Then right around the time last year that Keen played his final show, an album strangely surfaced on Spotify and other streaming services called Western Chill. Just about as quickly as Western Chill showed up and some lucky folks got a quick listen, it had disappeared once again. But it left Robert Earl Keen fans buzzing that unreleased music was still out there in the offing.
The album Western Chill will finally making its official debut on April 14th, but that's not all. It will be accompanied in Box Set form with Robert Earl Keen and his band performing the entire album on DVD, a Western Chill songbook—and get this—a 92-page full-color graphic novel done by Scott Faris and Rachel Faris Ross of FarisWheel Productions, along with illustrator Bryan Burke.

"We first got the call from Robert asking if we wanted to take this on sometime around the end of March [of 2022]," says Scott Faris with a laugh. "We kind of joked that we were the only ones that would say yes! Because it was a huge, huge project, you know? But in the end, we managed to do it all in about 10 weeks. It was intense, but it really was a massive honor just to work on it. I mean, I know we're talking about a comic, but it's also a piece of Robert's history—and a piece of Texas music history now, too."

The album, DVD, songbook, and graphic novel will only be available in box set form, at least for now. That also means that the Western Chill album won't be available for streaming or download either. It is being released through Robert Earl Keen's own label, Scriptorium Rex.

Along with the new Robert Earl Keen song "Western Chill," the album includes the song "Waves" by fiddle player Brian Beken, an instrumental by mandolin player Kym Warner called "Hey Stranger," and other selections.

Western Chill is a collaborative, multi-format effort, and it is now available for pre-order.https://www.youtube.com/embed/U1XAEbThwC8
© 2022 Saving Country Music
February 21, 2023
If you're a fan of Outlaw country music and Waylon Jennings, then you probably know the story of his landmark 1973 album Honky Tonk Heroes forwards and backwards. Featuring all Billy Joe Shaver songs except for one, it is one of the defining albums of the Outlaw era, it put Billy Joe Shaver on the map, it's wildly influential even still today, and is arguably one of the most important country albums of all time.

But not taking for granted that some don't know the story, here's a quick refresher: Billy Joe Shaver was at Willie Nelson's Dripping Springs Reunion just outside of Austin in 1972—aka the Hillbilly Woodstock as it came to be known. While backstage hanging out, Shaver plays "Willy the Wandering Gypsy and Me" and Waylon Jennings gets a whiff of it. Waylon was so impressed, he invites Billy Joe to Nashville to write songs together. Whether Waylon was serious, or whether it was one of those "Hey, stop by if you're ever in town" sort of things that you never expect folks to take you up on, Billy Joe Shaver took Waylon seriously, and took off to Nashville.

Waylon Jennings spent the next six months dodging ol' Billy Joe Shaver, until Billy Joe got so hell bent on showing Waylon his songs, he accosted him in the hallway of the studio, telling Waylon that if he didn't listen to his songs, he'd kick his ass right there in front of God and everybody. Waylon tried to give him $100 to go away, but Shaver persisted. Finally after Shaver broke him down, Waylon listened, and decided to cut an entire album of Billy Joe Shaver songs.

But this wasn't the end of the drama. Waylon Jennings had just won creative control from RCA Records after years of being under the oppressive thumb of producer Chet Atkins. Now that Waylon could do whatever he wanted—which at this point was cut an album of Billy Joe Shaver songs—he though he was free from people telling him what to do. But Billy Joe Shaver had other ideas.

50 years ago today, February 21st, 1973, Waylon Jennings was in the studio recording the title track to Honky Tonk Heroes. Billy Joe Shaver was in the studio too, and he was not happy with what Waylon was doing with his song at all. If you know the song "Honky Tonk Heroes," it takes a very unconventional approach to the rhythm for a country song. This was all part of what Waylon's drummer and right-hand man Richie Albright trying to separate Waylon from the herd.

Richie notoriously told Waylon at one point, "There's another way of doing things, and that's rock 'n roll." The song "Honky Tonk Heroes" starts off rather traditionally for a country song. But then about 90 seconds in, it launches into a more aggressive and electric rock-style sound. Then at the end, the song drops down into a half time beat. That half time beat at the end of "Honky Tonk Heroes" was perhaps one of the most landmark and influential portions of the whole album.

But Billy Joe Shaver was having none of it. He didn't want Waylon getting fancy with his songs. "We were doing the album and Billy Joe was around, and we began 'Honky Tonk Heroes,' so we cut the first part of the song and we stopped, and Waylon said, 'This is the way we're going to do it,'" Richie Albright recalls. "And Billy Joe had been sitting in the back and he come walking up, saying, 'What are you doing? You're fucking up my song. That ain't the way it goes.' Pretty soon Waylon and Billy Joe are just hollering at one another."

Here was Billy Joe Shaver having a major country artist record an entire album of his songs, and he's running the risk of blowing it by getting on the bad side of Waylon. "Billy Joe didn't understand the way we were putting it together…" explains Richie Albright.

"His songs were of a piece, and the only way you could ever understand Billy Joe was to hear his whole body of work," Waylon Jennings said in his autobiography. "That was how the concept of 'Honky Tonk Heroes' came about. Billy Joe talked the way a modern cowboy would speak, if he stepped out of the West and lived today. He had a command of the Texas lingo, his world as down to earth and real as the day was long, and he wore his lone Star birthright like a badge."

Later as the session went on, Billy Joe Shaver eventually saw the grander vision they had in mind. "When we put it together, [Shaver] said, 'Yeah. That's good. That's the way it goes," Richie Albright recalls.

The story of both the song "Honky Tonk Heroes" and the album illustrates how sometimes through conflict can come great creativity. If Billy Joe Shaver had never accosted Waylon Jennings in that hallway, who knows what may have happened with the Outlaw movement. And if "Honky Tonk Heroes" was never recorded the way it was with the unusual time changes, perhaps the album wouldn't have gone on to be as well-received and influential as it eventually was, and continues to be.https://www.youtube.com/embed/SRJhsYf-jok
© 2022 Saving Country Music
0
Billy Joe Shaver, Chet Atkins, Richie Albright, Waylon Jennings, Willie Nelson
January 23, 2023
Look, I'm not here to knock anybody. Merchandising and licensing deals are one of the lifebloods of music, and much of independent music specifically. Your favorite band isn't getting by just on their Spotify streams alone, trust me.

But I can't tell you how achingly predictable and just sort of uncool it feels to see so many artists releasing a signature line of booze these days. At one point it was kinda cool. But now most any artist of any decent size has one, and it's gone from something unique to something that's almost expected.

This isn't to knock some local brewery when they decide to do a limited-edition bottle, can, or brew commemorating a cool artist, or to be a total prude about artists wanting to put their mug on an alcohol product. More power to them. It's just so par for the course these days, it feels pretty uninteresting when the announcements come out about a new one seemingly weekly.

But I have to say, the Turnpike Troubadours partnering with a coffee company actually seems quietly awesome, and this is coming from someone who doesn't even drink coffee, and doesn't get excited about these kinds of things ever. It's an interesting twist on the country music brew partnership, and a very subtle and unspoken jab at always making these deals about alcohol, especially when so many artists and their fans are sober these days.

Sure, many people can enjoy alcohol responsibly. But it's cool to see a band offer an alternative, especially one with numerous members who've struggled with alcohol themselves. When they put George Jones on bottles of moonshine and vodka, it never sat right with me after how much he struggled with the sauce. This isn't just about coffee. It's about what it symbolizes.

The Turnpike Troubadours have partnered with the Onyx Coffee Lab out of Rogers, Arkansas to offer the limited edition "Long Road Home" blends. The coffee comes in four aromas: Chocolate, Molasses, Heavy Body, and Fruit Punch. For more info and to purchase, CLICK HERE.

Now I know that what most of y'all out there want from the Turnpike Troubadours right now, and it's not necessarily a cup of joe. You want new music dammit. Well, I'm sure that's brewing too and will be on the way sooner than later. I'm kind of surprised we haven't heard at least a new single at this point. But give the boys from Oklahoma some space. I'm sure they want to get this right, and so should the rest of us.
© 2022 Saving Country Music
January 9, 2023 -Kevin McCoy
Trigger Radio/Media 4 Comments
On Sunday morning (1-8), the country music internet was all abuzz from a story in TMZ about Morgan Wallen pouring a drink down the front of the blouse of a woman at a Nashville bar. The incident allegedly happened Friday night, January 7th, at an unnamed bar in Nashville's Lower Broadway entertainment district. The title of the story was, "Morgan Wallen Caught Pouring Drink Down Woman's Blouse in Nashville Bar."

With the sordid and lengthy rap sheet of bad behavior by Morgan Wallen, the headline and the story itself was most certainly concerning. Let's not forget, it was the notorious Morgan Wallen 'N-word" incident first reported by TMZ in February of 2021 that sent the entertainment world into a tizzy, let alone the story of the postponement of his Saturday Night Live performance for breaking COVID quarantine, or for being arrested at Kid Rock's bar in May of 2020.

The TMZ report included two separate video clips from TikTok user @reillyvicendese —the first being rather innocuous—along with this description ….
The second clip is the one where we see him act out. It seems like there's some tension between him and this woman, as she tries to pry him away from a group of guys he's chatting with toward the back.

When she grabs his hand, he pulls it away dramatically.

The woman ignores that and walks back to her girlfriend, but then … Morgan creeps up behind her and quickly drops a full cup's worth of liquid right down the front of her shirt — which clearly leaves her shocked. She pushes him back a little, and Morgan's cheesin'.

It would appear he realized she wasn't pleased with the rude gesture … as he retreats to the corner of a booth and out of sight. It's unclear what else may have come of this interaction.

While the full context of his relationship with this woman is missing for now — which might help explain if this was innocent or malicious — we gotta say … on the face of it, this comes across as a bad look. The gal in question didn't seem like she wanted that to happen at all.
On its face, this behavior from Morgan Wallen is very concerning for what is currently the biggest star in country music, and for someone that is supposed to be flying on the straight and narrow ever since the N-word incident, let alone early proclamations that he'd gotten sober (Wallen's been photographed numerous times drinking since).

However, the story in TMZ no longer exists, and they also scrubbed the story from Twitter and other social media. Immediately after the story was published, Morgan Wallen fans and others started pointing out that Morgan Wallen did not pour anything down the woman's blouse as both the title and the description of the TMZ story stated. Clearly as Morgan Wallen walks away, his cup is still full. Wallen only slightly feigned spilling his drink on her before pulling away. The characterization that he "quickly drops a full cup's worth of liquid right down the front of her shirt" is clearly false.

As TMZ accurately states, we have no idea what the relationship between Morgan Wallen and this woman is—if they're friends, acquaintances, or if they just met in this moment, which would all be important context in interpreting what actually happened. It's also fair to wonder why Morgan Wallen is even putting himself in these types of potentially compromising situations at this late stage in the game when he's trying to rehabilitate his image. Does his label Big Loud not have handlers for him at this point? And if he was being aggressive toward this woman, it would most certainly be concerning.

But another big question is why TMZ pulled the story with absolutely no explanation. If there were mischaracterizations in the story, they could have updated these. Pulling the story in its entirety feels like a clear mea culpa, but without a correction or explanation, it leaves the public in limbo about the authenticity of the original story. Just because you pull a story doesn't mean it gets erased from the memory of the likely hundreds of thousands of people, or perhaps million-plus, who read it initially. TMZ also earned revenue off a story that was at least in part false, and perhaps entirely mischaracterized.

Meanwhile, a link and description of the story still remains up on TMZ's Facebook page, and numerous outlets that reprinted the TMZ story are still live, meaning the story is very much still out there.
December 8, 2022
© 2022 Saving Country Music
It's the tale of two television shows, as two networks try to tap into the rich narrative of country music, one via fictionalized drama, and another via the true story of Tammy Wynette and George Jones. One didn't go very well at all. Another is setting records.

FOX's scripted country music drama Monarch starring Susan Sarandon and Trace Adkins was supposed to be the network's cash cow for years to come. It was the network's first fully-owned franchise, hoping to not just accrue high ratings from the high drama the series promised each week, but also through soundtrack distribution and merchandising activations that the series hoped to achieve. Now, that's all for naught.

Monarch has officially been cancelled by FOX. Reported on Thursday morning (12-8), the show's season (now series) finale aired on December 6th, and that's all she wrote. Trashed by critics and unable to pull even decent ratings (0.3 rating in the key ad sales demographic of adults 18-49), the frenetic pace of the show and hard-to-believe plot twists just tried too hard, while the acting wasn't a saving grace, but a burden in itself.

This is a massive loss for FOX, which had spent two years promoting Monarch in prime spots during the NFL season. The show was initially set to debut on January 30th right after the NFC championship game on FOX, but got pushed back. COVID-19 was blamed, but it was reported later that scenes were being re-cut and reworked due to the departure of a key actor, and a general sense that she show wasn't coming together well.

When Monarch finally did debut on Sunday, September 11th, FOX was hoping it would be the anchor of their fall season. After bad ratings and worse reviews, the writing seemed to be on the wall for the show. It was no country music version of Yellowstone like the network hoped. It wasn't even ABC's decently successful show Nashville that ran from 2012 to 2017.

– – – – – – – – –

It's a completely different story for Showtime's limited series George & Tammy though, starring Jessica Chastain and Michael Shannon. Some serious country music fans have been slightly disappointed in some of the singing or slights of the historical timeline, but the series so far has been universally praised by critics, with an 81% rating on Rotten Tomatoes (Monarch had a 31% rating, for reference).

Perhaps most exceptional is that according to Showtime, the debut episode of George & Tammy was the most-watched premier in the cable network's history, tracing back nearly 50 years. The show received 3.3 million Live+Same Day viewers. Granted, the debut was helped by being broadcast right after Yellowstone, and was simulcast on the Paramount Network, CMT, and Showtime. Henceforth, it will only be available on Showtime or on a streaming package.

Nonetheless, the creators of George & Tammy must be happy about the early reception. Perhaps it's true that in country music, truth is more compelling than fiction—though most certainly, George & Tammy takes its own liberties as well. But it is interesting to see that two legendary country artists who've been mostly brushed under the rug by the mainstream for decades can draw a large audience when given an opportunity, and a more sustainable one compared to whatever sensationalized drama Susan Sarandon and Trace Adkins were acting out.

Similar to what we saw with the 2022 CMA Awards that took a significant step towards highlighting more music of the past and expereinced a boost in ratings for it, when traditional country is given an opportunity through mainstream media, it tends to succeed. Traditional country fans are ones who will show up for their favorite artists compared to fleeting pop country fans, and the true life stories of country music are more compelling than fiction. The downfall of Monarch, and the early success of George & Tammy help verify this.
© 2022 Saving Country Music
November 28, 2022
Trigger News 28 Comments © 2022 Saving Country Music
The work that Marty Stuart did on The Marty Stuart Show that aired original episodes between 2008 and 2014 on RFD-TV has withstood the test of time, evidenced by the continued popularity of the show in reruns. Some 156 original shows aired from the series which featured Stuart and his backing band The Fabulous Superlatives and Eddie Stubbs as announcer, along with many special guests over the years, including country legends that would go on to pass away, marking The Marty Stuart Show as one of their final appearances.

"The mission statement there was to put our arms around the culture of traditional country music inside the walls of Nashville before it completely disappeared off the edge of planet Earth. And we accomplished that," Stuart said in 2017. "At the end of the 156 episodes and six or seven seasons, you know what? Mission accomplished. Let's move on … That particular show is in the books now. It's in history books."

Nonetheless, country fans have been salivating at the prospects of Marty Stuart returning to television in some capacity. He said after closing the door on the Marty Stuart Show's return, "I love TV, and I think there's another television show in development, probably for another network. But we are absolutely going to go back to the TV cameras in the next couple years, I think."

Now we have more details on what exactly Marty Stuart has in the works, and it will be tied into his Congress of Country Music in Philadelphia, Mississippi, which will be opening its first phase, The Ellis Theater, on December 8th.

"I see it as 30-minute episodes, revolving around going out to obtain an artifact, rescuing it and bringing it back," Stuart tells Billboard. "Every show will start in the warehouse in Philadelphia, Miss., where everything is staged right now. You get the story behind the artifact and it's a treasure hunt. If there are musical instruments involved, we try to bring the past and present together."

The original impetus for Marty Stuart's Congress of Country Music was to give a permanent home to the some 20,000 country music artifacts Stuart has amassed over his career. If the show comes into full production, it will dovetail into what Marty Stuart is doing in his hometown. The pilot episode for the potential series is currently being edited, with the hopes of finding a home for the full production eventually.

"For instance, the lyrics to [Hank Williams, Sr.'s] 'I Saw the Light' or 'Cold, Cold Heart,' it makes a lot of sense for one of his grandkids to sit there and sing them," says Stuart. "It's showing how artifacts are relevant in the hands of somebody current. We take for granted that everybody knows who Hank Williams is, but there's a whole new generation that needs to be educated. It's a way to bring past, present, and future, entertaining and educating at the same time."

Marty Stuart has had a busy week. On Tuesday, November 22nd, he was inducted into the Musicians Hall of Fame in Nashville along with his backing band The Fabulous Superlatives of "Cousin" Kenny Vaughan, "Handsome" Harry Stinson, Chris Scruggs, and Mick Conley. Then on this week's Friday Night Grand Ole Opry (11-26), Marty Stuart will be celebrating his 30th Anniversary as a member.

Marty Stuart and His Fabulous Superlatives also just released a new song called "Country Star" ahead of a new album to be announced soon.
© 2022 Saving Country Music
October 24, 2022
© 2022 Saving Country Music. The amount of country/roots/Americana releases coming at you each week has officially reached critical mass. And it will spill over like a school bus taking a dive into an above ground pool on Friday, October 28th. You have albums being released that will vie for Album of the Year. You have country legends releasing long-anticipated records. You have up-and-comers releasing career-defining projects. And it's all coming at you at the same time.

Luckily though, you know about little ol' Saving Country Music, so at least you have a head start trying to navigate the insane amount of releases. Here is a guide to help you through what will be the busiest release day in 2022.
---
Gabe Lee – The Hometown Kid
Many country music artists are based in Nashville, and many more come to the city every year to "make it" in the mecca of the country industry. But a very select few country performers are actually from there. Gabe Lee is one of those rare few, and he'll be offering his assessments and perspectives on his hometown along with other heartfelt expressions in his new album.
First emerging with his 2019 debut album farmland, Gabe Lee quickly distinguished himself as a top flight songwriter in the field of new independent country performers, and an incredibly passionate and soulful singer. Gabe Lee continues to be one of the most underrated songwriters and performers in the current independent country wave that is swelling into a tsunami, threatening to consume Nashville and cleanse the streets of the wannabes and copycats. (read more)
Lainey Wilson – Bell Bottom Country
Lainey Wilson continues to be one of the bright spots in the mainstream, and just may be hitting the big time even more after it was revealed she will be a cast member during the 5th season of the massive blockbuster show Yellowstone this fall and winter, playing a songwriting character similar to her true self. When better then to coincide this appearance with the release of her sophomore album Bell Bottom Country, with a title emblematic of her expressive personality.
"I've lived quite a bit of life the past few years, and I have a lot more to say," Wilson explains. "Sure, I love a good pair of bell bottoms, but Bell Bottom Country to me has always been about the flare and what makes someone unique—I have really embraced mine, and I hope y'all can hear that across this project."
Julie Roberts – Ain't No Hurry

For years we've been hearing about a Julie Roberts comeback record produced by Shooter Jennings. And now after nearly a decade of absence, the aptly-titled Ain't No Hurry is finally arriving. Not only is Shooter credited as a producer, so is songwriter and performer Erin Enderlin. And these aren't the only big names involved. The lead single is a duet with Jamey Johnson on Ray LaMontagne's "Music City's Killing Me," with covers from KT Oslin and Jessi Colter as well. Brent Cobb and Waylon Payne also show up in the album credits, and there's a duet with Randy Houser as well.
"It's a record of strength," Roberts says. "I'm reinventing myself here, both musically and lyrically, while still paying tribute to the traditional elements people know me for. I never imagined I could feel this much joy. It puts life into such clear perspective and makes me even more excited about sharing my life journey through new music."
Emily Scott Robinson – Built On Bones
This is a cool little album that is perfect for release during the Halloween season, even if that wasn't the original intent. Built on Bones includes six original songs written by Robinson around the Witches of Shakespeare's play Macbeth. Originally commissioned as a live piece for theater by director Colin Sullivan, it was recorded with Brandy Zdan as producer, and became a deep passion project for Robinson.
Though this should be considered more of a side project for Emily Scott Robinson, with the way she continuously delivers incredibly well-written songs as a premier composer of our time, Built On Bones should not be taken lightly, and makes for a great release for the season.
Teague Brothers Band – Love and War
When he's not running his ranch or construction company in Winnie, TX, US Army Veteran and songwriter John Teague can be found fronting the Teague Brothers Band. Following up the band's 2019 debut album Harvest Day is the new album Love and War, led by the album's debut single "American Folk Song," which exemplifies the band's strong songwriting coupled with an energetic delivery.
You may remember the Teague Brothers Band from a while back when Turnpike Troubadours frontman Evan Felker was hiding out in Texas, working on ranches during his recovery. When Felker first chose to emerge once more, it was with a cowboy mustache and The Teague Brothers backing him up at a local benefit. That about as big of a ringing endorsement as you can get from a big name in country music.
Trampled By Turtles – Alpenglow
Call them bluegrass. Call them folk or Americana. Call them whatever you want, but when Trampled By Turtles take the stage, something magical happens that's hard to quantify. They grab your attention with amazing instrumentation normally only reserved for the highest echelons of bluegrass, while the songwriting of frontman Dave Simonett puts them in a different stratosphere and classification.
Dave Simonett and his bandmates Erik Berry (mandolin), Ryan Young (fiddle), Dave Carroll (banjo), Tim Saxhaug (bass) and Eamonn McLain (cello) come together once again for the band's 10th album overall over a nearly 20-year run (has it really been that long?). The album is named after the optical phenomenon when the sun casts a reddish glow at dawn or dusk, accentuated often by mountains in the distance. (read more)
Memphis Kee – Wimberley

Produced by the sixth member of Mike and the Moonpies, Adam Odor, and recorded down in Wimberley, TX at Odor's Yellow Dog Studios, the Austin, TX-based band reminds you of the rambunctious days of Austin country rock by combining Red Dirt influences with Memphis blues in a style the band calls "shred dirt." Formed in 2020 behind frontman Memphis Kee, this is officially their debut album after Memphis released an EP in 2019.

Also part of Memphis Kee are Spencer Carlson (lead guitar, vocals); Paul Pinon (drums); Joey Sisk (bass) and Jake Waylon (mandolin, keys, guitar, vocals). Their most recent single from the album "Come Pick Me Up" features Cody Braun from Reckless Kelly, and Mike Harmeier of Mike and the Moonpies.
Flatland Cavalry – Songs To Keep You Warm EP
Produced by Bruce Robison at his famed studio The Bunker in Lockhart, TX, the EP features six songs written by Flatland frontman Cleto Cordero, and appearances by Ashley Monroe, and Cordero's wife Kaitlin Butts. The goal of the EP is spelled out right there in the name, and is preceded by the single "Mountain Song."
"An idea came to me in June, out of the blue, late one evening at bedtime after a very long and wearisome few weeks on the road," says Cleto Cordero. "I was in the kind of place where I was completely exhausted, both mentally and physically, and laying there in a state of surrender, the entire idea for this EP just flashed into my mind: The studio and producer, the songs and the theme, 'Songs To Keep You Warm.'

The Great Divide – Providence
Though defining Red Dirt music may not be that easy, if you ask anyone who knows anything about it, they'll attest that Mike McClure and The Great Divide were one of the founding fathers of it, that's for sure. They released five albums back in the day, including one on a major label, and even had Garth Brooks cover one of their songs. But when Mike McClure went solo in 2003, the band name was mostly retired, until recently.

Now the band is officially back with their first album in 20 years. "The overall arc of the record is dealing with time; it asks how much time we have left in our lives and how we want to spend the remaining years," says Mike McClure. "It's about admitting the areas where work is needed and putting in the effort to do something about it."

Long Mama – Poor Pretender

From Milwaukee, Wisconsin and fronted by singer and songwriter Kat Wodtke, Long Mama's Poor Pretender is not one to be overlooked on this extremely bust release day. A journey through 10 story songs, the album pulls from country, folk, and even punk influences as it weaves a unique and engaging listening experience.

"A 'Long Mama' is a small, spiny cactus," Kat Wodtke explains. "It can survive cold and prefers shade to sun. It's also fragile. If cared for properly, it can yield bright yellow flowers. The human mind is just as tough and delicate. So many people find themselves on a ledge between breaking or enduring. How will we emerge from hard times?"
Comanche Moon – Last Golden Rays
The vastness and history of West Texas have inspired many songs and artists over the years no different than gazes skyward at the celestial heavens. That's why the region has consistently churned out some of the best songwriters and performers from the Lone Star State and beyond.
Chandler Sidwell and Mark Erickson make up the principals of Comanche Moon, and both come from multi-generation Panhandle rancher stock, underpinning their music with rugged country roots, and genuine stories of agrarian struggles. It's their interest in classic rock that makes this a more unique project. Instead of spending time soliloquizing how the beer and babes are always better in the Lone Star State, Comanche Moon is more preoccupied with composing meaningful songs and stringing them together in a more deliberate manner, both in story and sound.
---
Other Releases:
---
Luke LeBlanc – Fugue State
Joseph Shipp – Free, for a While
Trent Summar – I Might Get Used to California EP
Andy Leftwich – The American Fiddler
June Star – Arrival EP
Angela Easterling – Witness
Native Harrow – Old Kind of Magic
Tommy Alexander – Feelings
The Matchsellers – The Wishful Thinker's Hall of Fame
Dustbowl Revival – Set Me Free EP
Honey Harper – Honey Harper and the Infinite Sky
Mike Ryan – Longcut
October 12th, 2022
© 2022 Saving Country Music
There are few places more synonymous with country music in Texas than Luckenbach, and there are few places more synonymous with an individual artist than Luckenbach is with Jerry Jeff Walker. When Walker recorded his album Viva Terlingua! in Luckenbach's legendary dance hall in 1973, it put the tiny destination spot on the map, and made names for some of the artists featured on the album such as Ray Wylie Hubbard and Gary P. Nunn.
Jerry Jeff Walker died on October 23rd, 2020 at the age of 78, but in Luckenbach TX, legends never die. And just to make sure nobody ever forgets just what Jerry Jeff Walker meant to Luckenbach, and what Luckenbach meant to Jerry Jeff, on Saturday, October 8th, and new bronze sculpture was unveiled in Jerry Jeff's honor, depicting the songwriter sitting right beside Luckenbach founder Hondo Crouch, whose vision is what has allowed Luckenbach TX to remain a destination spot nearly 50 years after Viva! Terlingua, and 45 years after Waylon Jennings had a #1 hit with the "Luckenbach TX" song.
The sculpture sits right beside the legendary Luckenbach TX Post Office/gift shop under a shade tree. It was the work of Philadelphia, Pennsylvania-based sculptor Clete Shields. Shields was also the artist behind the eight-foot bronze statue of Willie Nelson, which resides outside the Moody Theater in Austin where Austin City Limits is taped. Clete Shields is also responsible for a 14-foot bronze statue called "Vaquero: Genesis of the Texas Cowboy" at Texas State University in San Marcos, as well as commissions by Quentin Tarantino and Samuel L. Jackson.
Clete Shields spoke briefly before the unveiling, and then Jerry Jeff's widow Susan Walker gave an inspiring speech about just what Luckenbach meant to Jerry Jeff Walker, and what Hondo Crouch and Jerry Jeff Walker meant to each other. She also told stories of Luckenbach lore that you'd have to be boned up on the lore to understand—stories about coasting trucks and avoiding the cops.
Then the sculpture itself was unveiled, with a grey cat scampering out from under the tarp, like the mischievous spirits of Jerry Jeff and Hondo Crouch letting their presence be known. © 2022 Saving Country Music
Kevin McCoy August 29th, 2022
Still time to see the Corpus Christi as the season winds down. Listen for your chance to win tickets! Be sure to join us Wednesday, September 7th on the concourse for your chance to win the last Prize pack. Register To Win Some Great Prizes! We'll Have An Autographed Hooks Team Ball, Whataburger goodies and more!
Kevin McCoy July 23, 2022 © 2022 Saving Country Music
Trigger Random Notes 51 Comments
It's pretty common in country music each week for someone to receive a new Certified Gold or Platinum record from the RIAA for something. It's pretty rare that an artist receives ten of them at a time though, but that's what's happened for both George Strait and Chris Stapleton recently, speaking to the continued longevity and popularity of their music.

Universal Music Group Nashville recently played catch up with multiple artists who had RIAA Certifications coming to them. The new certifications were officially announced on July 15th. Kacey Musgraves and her breakout song "Merry Go 'Round" was officially Certified Double Platinum. Dierks Bentley also received a Double Platinum Cert for "Different For Girls." Eric Church also received multiple new certifications, as did Jon Pardi.

But George Strait came out tied with the biggest haul. Despite not being able to hear him on the radio anymore, George Strait remains one of the most popular artists is country music. As has been verified by recent market research, older songs continue to rise in popularity and market share compared to newer ones, and that gulf is continuing to grow as today's consumers continue to show preference in older music. Older songs now make up 72% of music consumption, and rising.

Look at this haul of new RIAA Certifications for George Strait:

1. "Give It Away – Certified Platinum
2. "Every Little Honky Tonk Bar" – Certified Gold
3. "It Just Comes Natural" – Certified Gold
4. "I Can Still Make Cheyenne" – Certified Platinum
5. "I Got a Car" – Certified Platinum
6. "How 'Bout The Cowgirls" – Certified Gold
7. "Carried Away" – Certified Gold
8. "Easy Come, Easy God" – Certified Gold
9. "Write This Down – Certified Platinum
10. "Love Without End, Amen" – Certified Platinum

Gold = 500,000 in sales, downloads, and streaming equivalents. Platinum = 1 million in sales, downloads, and streaming equivalents.

Interesting that the new certifications include George Strait's song "Every Little Honky Tonk Bar" from his most recent album Honky Tonk Time Machine released in 2019. That means ol' King George is still minting hits. The song actually did surprisingly well on radio, peaking at #17. It was written by Strait himself, with son Bubba, and long-time collaborator Dean Dillon.

Further evidence of Strait's continued popularity can be found on the albums charts. This week, Strait's 50 Number Ones is #13 on the Billboard Country Albums chart, beating out many new titles from mainstream country's current top stars. Last week 50 Number Ones was at #15, and it has been generally hovering within that same range for months now. Whenever someone streams a George Strait song, it often gets counted via the 50 Number Ones album, and people are streaming songs from George Strait a lot.

As times goes on and today's consumers continue to grow increasingly frustrated with the lack of creativity, roots, and soul in today's music, expect to see the back catalogs of guys like George Strait and other older country acts continue to remain popular, and perhaps even grow in popularity, with Gold and Platinum Certifications following.

Radio may no longer play these songs, but fans still do. Meanwhile, the #1 song on country radio this week was a track called "Damn Strait" by Scotty McCreery, written by Jim Collins and Trent Tomlinson. It's a tribute song to King George. So even when George Strait isn't on the radio, he still is, and his name is being shared all across the country radio format. Though nostalgia is a strong force in all of music, it's an especially important component to country music, making older country artists even more poised for retrospective listening.

This also presents a different way of thinking about the effort to "save country music." As opposed to just focusing on new artists coming up to challenge the mainstream, the back catalogs of country legends coming up from behind could be another, with artists, songs, and albums forgotten by mainstream country radio rising from the dead as new listeners discover these older artists, and older listeners continue to show favor with country legends as opposed to the new crop of popular country performers.

Country radio may have put George Strait out to pasture some years ago. But he remains one of the most popular artists in country music as his songs withstand the test of time.

– – – – – – – – – –

For those curious of Chris Stapleton's new RIAA Certifications since he tied George Strait:

1. "Cold" – Certified Gold
2. "Second One To Know – Certified Gold
3. "Was It 26" – Certified Gold
4. "Millionaire" – Certified Double Platinum
5. "Fire Away" – Certified Triple Platinum
6. "You Should Probably Leave – Certified Platinum
7. "The Devil Named Music" – Certified Gold
8. "Daddy Doesn't Pray Anymore" – Certified Gold
9. "Last Thing I Needed, First Thing This Morning" – Certified Gold
10. "Starting Over" – Certified Double Platinum
© 2022 Saving Country Music
Kevin McCoy July 6th, 2022
Top Gas Station & Cheapest Fuel Price in Corpus Christi Today
4833 S Padre Island Dr
Corpus Christi, TX
$3.84
———————————————————————————————————————–
© 2022 Saving Country Music
The Turnpike Troubadours Just Booked an ARENA
On Tuesday (6-21), the band announced they will be playing the cavernous Paycom Center in Oklahoma City on November 12th, and will be bringing along Blackberry Smoke and Morgan Wade for the party. This is the place Justin Bieber, Lady Gaga, Kenny Chesney, and George Strait play when they're in town. This is no glorified field house. This is the big time.

Now of course, this comes with some caveats. Oklahoma City is right in the heart of Turnpike Troubadours land. It's doubtful they could do this in Seattle or Brooklyn. Turnpike is gonna barely sell out some amphitheaters on the east coast later this year. Also, Blackberry Smoke and Morgan Wade are no slouches. They're moving quite a few tickets themselves these days.

But this will be an interesting test to see just how far the Turnpike Troubadours appeal will reach. In fact, that is probably the whole point. With the way ticket demand has far outpaced supply, if they fill an arena to capacity in Oklahoma, they may be able to do the same in Texas, in Kansas City, and in Colorado. They already sold out Red Rocks on consecutive days.

And this isn't all smoke and mirrors. The Turnpike Troubadours are on fire at the moment, turning in some of the best performances of their careers. And sure, playing arenas comes at the expense of the intimacy of smaller venues. But would you rather see them in a arena, or not be able to see them in a smaller venue in Oklahoma because there's no tickets, and any left are going for $700 on the secondary market?

This won't be the first time the Turnpike Troubadours have played a venue this size. They played Rodeo Houston a few years back that's also held in an arena, and they also played a few other arena shows opening for … someone. But this is their own gig, not piggy-backing off of anyone, or another event.

In other exciting Turnpike Troubadours news, Evan Felker will also be appearing on the new Dropkick Murphy's album This Machine Still Kills Fascists, which is a tribute to Oklahoman Woody Guthrie. Felker will appear on a song called "The Last One." That project will be released on September 30th. More info on that soon.

Meanwhile, presale tickets for the Turnpike Troubadours at Paycom Center will go up Wednesday at 10 am Central, with the full sale starting Friday, June 24th.
© 2022 Saving Country Music
Kevin McCoy June 2nd, 2022
© 2021 Saving Country Music
Country Outlaw and songwriting legend Billy Joe Shaver passed away on October 28th, 2020 at the age of 81. But fans of Shaver received a welcomed and unexpected new recording of his classic song "Old Chunk of Coal" that populated across streaming and download services on Friday, May 27th.

Featuring his long-time guitarist and surrogate son Jeremy Lynn Woodall, it's a stripped-down acoustic take of the song "I'm Just an Old Chunk of Coal (But I'm Gonna Be a Diamond Someday)" that John Anderson recorded in 1981 and had a hit with, reaching #4 in the charts. Shaver also released his own version that was the title track to his 1981 Columbia Records release.

So why is this new version being released now? Talking to Jeremy Lynn Woodall, he says this song was recorded to accompany the Billy Joe Shaver episode of Mike Judge's Tales from the Tour Bus animated series, originally released in October of 2017. But that still doesn't answer why it's being released right now. Querying the label Lightning Rod Records that released the song, it has to do with the close friendship Billy Joe Shaver had with comedian Norm MacDonald.
Related: The Fascinating Friendship of Billy Joe Shaver and Norm MacDonald
Norm MacDonald passed away on September 21st, 2021, but right before, he recorded the audio for what was going to be his next comedy special. MacDonald had a medical procedure coming up, and he wanted to make sure the special was captured just in case everything didn't go so well. Good thing he did, and just like the new version of "Old Chunk of Coal," MacDonald's final special called Nothing Special was just released via Netflix.

Along with Norm's final act, the Netflix special also includes comedians like David Letterman, Dave Chappelle, Adam Sandler, Conan O'Brien, and others talking about Norm's career and impact. And who better to play Norm MacDonald out during the credits than old friend Billy Joe Shaver? So that is why the new version of "Old Chunk of Coal" is being released now.

Unfortunately, the new Billy Joe Shaver song is not part of a bigger project in the works. But according to Jeremy Lynn Woodall, Billy Joe Shaver did do some final studio recordings in the early portions of the pandemic, though he doesn't know if or when they will be released. So there is still some more Billy Joe Shaver material out there in the offing.

And speaking of Billy Joe Shaver, Jeremy Lynn Woodall, and remembering fallen greats, Woodall has announced the formation of the officially Billy Joe Shaver tribute band called Surrogate Son that he will be a part of. They will be performing along with the Chris Low Band and Gordon Collier at The Backyard in Waco, TX on August 14th at the inaugural "Billy Joe Shaver Hometown Throwdown" that will happen each year around Shaver's birthday on August 16th.

Billy Joe Shaver and Norm MacDonald are gone, but they're not forgotten, thanks to the art they left behind, and the loyal fans and fellow artists committed to keeping their memories alive.
———————————————————————————————————————–
Kevin McCoy May 19th, 2022
Wynonna Judd Announces Star-Studded List of Women as Special Guests for The Judds' Final Tour
Wynonna Judd will honor fall tour dates she had planned to go on with her mother, the late Naomi Judd. Wynonna made the announcement during Naomi Judd: A River of Time Celebration, which was held at the Ryman Auditorium in Nashville on May 15.
"The show must go on, as hard as it may be, and we will show up together, and you will carry me as you've carried me for 38 years," Wynonna said, referencing support from the fans. "I didn't know if I could go on without her. Life is so strange. It's so devastatingly beautiful what happened here tonight so we will continue. That's what she would want, right?"
Mother-daughter duo The Judds initially announced the 10-date string of arena gigs billed as The Final Tour on April 11. The tour was to begin on Sept. 30 in Grand Rapids, Mich. and end with an Oct. 28 farewell concert at Nashville's Bridgestone Arena. Naomi and Wynonna Judd were set to be joined by special guest Martina McBride.
A new final date on Oct. 29 at Rupp Arena in Lexington, Kent. will feature Faith Hill as Wynonna's special guest.
"What a full-circle moment it will be to end the tour in Kentucky where it all began," Wynonna shared in a press release. "It means so much to have my sisterfriend, Faith, join me for this musical celebration."
A selection of special guests will appear with Wynonna at each tour stop, including McBryde, Hill, Little Big Town, Brandi Carlile, Ashley McBryde, Trisha Yearwood and others to be announced.
On April 11, The Judds performed on an awards show broadcast for the first time in over two decades. A rendition of "Love Can Build a Bridge," introduced by Kacey Musgraves, aired during the CMT Music Awards. It would be the duo's final public performance.
The Kentucky-formed act's original Farewell Tour took place in 1991. Its final date, held Dec. 4 at the Murphy Center in Murfreesboro, Tenn., was filmed for TV special The Judds: Their Final Concert. On Oct. 17, 1990, Naomi announced her forthcoming retirement at age 44 due to a Hepatitis C diagnosis.
Naomi and Wynonna hit the road twice since then: the Power to Change Tour in 2000 and the Last Encore Tour in 2010. In addition, the duo reunited in 2015 for Girls Night Out, a nine-show Las Vegas residency.
———————————————————————————————————————–
Kevin McCoy May 2nd, 2022
Country Hall of Famer Naomi Judd Has Passed Away
Only a couple of weeks after making a reunion performance, only a few months before going on a final tour, and a day before being honored at the Hall of Fame medallion ceremony, Country Music Hall of Famer Naomi Judd of the famous mother/daughter duo The Judds has died. She passed away on Saturday, April 30th at the age of 76.

"Today we sisters experienced a tragedy. We lost our beautiful mother to the disease of mental illness," a statement from Naomi's famous daughters of Wynonna and Ashley read. "We are shattered. We are navigating profound grief and know that as we loved her, she was loved by her public. We are in unknown territory."
RELATED: Naomi Judd Was Open About Mental Illness, Thoughts of Suicide
Naomi Judd was the matriarch of one of the most successful and influential duos in country music history, even if their commercial career was brief. Though they reunited for recordings and reunion shows many times over the years, The Judds with Naomi's daughter Wynonna were only active for eight years full time between 1983 and 1991.

However, during that time, the two red heads from Ashland, Kentucky amassed 14 No. 1 hits, 25 total charting singles, seven consecutive Top Vocal Duo awards from the ACMs between 1984 and 1990, six consecutive vocal duo or group awards from the CMAs between 1985 and 1991, two other CMA Awards including Single of the Year for "Why Not Me" and the 1984 Horizon Award (Best New Artist), and five Grammy Awards.

Two of The Judds records went 2X Platinum, four others went Platinum, and four more Gold. This was the type of success that helped define 80's country through the music of The Judds. One of their 2X Platinum albums was their debut on RCA/Curb, Why Not Me issued in 1984. The duo signed the deal after struggling for years to get noticed. From there it was off to the races, with nearly a decade of unparalleled success in the duo space until Naomi was diagnosed with Hepatitis C in 1991, and ceased touring full-time.

Personal differences and creative conflicts had also crept into The Judds project, but the duo would still occasionally record and tour throughout the years, becoming synonymous with country music into the 90's. Wynonna also started a successful solo career, and still tours and records today. Naomi's other daughter Ashley Judd is also a household name as a successful and prolific actress.

The Judds were both popular and traditional, with songs like "Why Not Me" and "Grandpa (Tell Me 'Bout the Good 'Ol Days)" making fans both young and old. The Judds primary run ended just as the "Class of '89" with Garth Brooks, Alan Jackson, Clint Black, and Travis Tritt was taking shape, giving them a good exit as opposed to trying to chase trends with country's new crop of superstars.

In August of 2021, The Judds were named as the latest inductees into the Country Music Hall of Fame. They were scheduled to be formally inducted on Sunday, May 1st—the day after Naomi Judd died. They had just appeared as part of a reunion performance on April 11th at the CMT Awards, and had announced a final tour with Martina McBride set to commence in the fall.

Born Diana Ellen Judd on January 11, 1946 in Ashland, Kentucky, as Naomi Judd struggled to raise her daughters as a single mother who gave birth to her first child at the age of 17. Her life became like a sad country song after surviving domestic abuse and rape. She ultimately put all of her struggles into the passion and inspiration behind The Judds, which left a legendary mark on the music that is only fair to characterize as Hall of Fame worthy.© 2021 Saving Country Music
Kevin McCoy April 18th, 2022
Come See Us In The BUC DAYS FESTIVAL – INTERACTIVE ZONE At Rodeo Corpus Christi
Not in Arena. On Resaca Street.
May 11-14, 2022, 5pm-6:30pm
No fee to ride. Walk up registration.
DETAILS:
MUTTON BUSTIN' MANIA – brought to you by H-E-B
Hosted by KFTX 97.5fm
Let your little cowboys and cowgirls try their hand at riding a sheep.
Limited rides available.
Must be over 5 years old and under 55 pounds.
Children can also enjoy the…
WHATABURGER STICK HORSE BARREL RACING
Little ones can also enjoy stickhorse barrel racing.
Free. No age restrictions.
Kevin McCoy April 6th, 2022
Trigger © 2021 Saving Country Music
If it wasn't for "the slap," the biggest story in all of entertainment last week would have been Eric Church choosing to cancel his sold-out show on Saturday, April 2nd at San Antonio's AT&T Center so he could watch the Duke Blue Devils take on his North Carolina Tar Heels in the NCAA Final Four. It was the first time in Final Four history the two teams squared off against each other, though they play each other every year.

Eric Church wrote a letter to his fans explaining he wanted to experience the once-in-a-lifetime moment with his family, and later booked a makeup show, though in a much smaller venue (still waiting on details of how that will work). The gamble paid off for Church in one respect. The North Carolina Tar Heels ended up winning. If they had lost, it might have resulted in even more second guessing.

But public sentiment on the matter still remains very mixed among many country music fans, and even some artists. Late Saturday night (4-2), the always-opinionated Travis Tritt chimed in, letting folks know where he falls on the matter.

"FYI – Over the years I've missed friends and family's weddings, funerals, family reunions and a bunch of other events I would have loved to have attended because I was booked for shows," Tritt said. "I don't think I could ever get by with canceling a show because I wanted to watch sports."

And Travis Tritt was not alone from the performer class. Though Jason Aldean was not nearly as direct, he recently said, "This is a tricky question because Eric is a friend of mine. I'm a diehard Georgia Bulldogs fan, and Atlanta Braves, so I understand somewhat where he's coming from. I don't know that I could cancel a show to make it to a game. I feel like people are buying a ticket to see your show, you kinda have to hold up your end of the deal on that. But I know Eric's a huge basketball, Carolina fan. And I don't want to dive into that too much, but I don't think I would feel good if I did that so I don't know if I could pull it off."

But some artists came to Eric Church's defense. Fellow North Carolinian B.J. Barham of American Aquarium said, "Y'all ever called into work to take a personal day? Explain the difference. You let your employer down. You let your coworkers down. You let your customers down. Genuinely curious why straight job folks have normalized personal days, yet a musician is vilified for doing it."

B.J. Barham later clarified, "Please don't confuse my understanding of his actions for condoning his actions. It was a selfish move, but as a sports fan, I totally understand the move."

What's for certain is this issue will be talked about for years to come, and will go on Eric Church's permanent record, evoked by detractors whenever his name comes up. Hopefully though, it doesn't result in a new era of excuses for concert cancellations that are already more common after the COVID-19 pandemic.
© 2021 Saving Country Music
March 30, 2022
In an unprecedented move—and from a guy who is otherwise known for hard touring, electrifying performances, and taking care of his fans above everything else—Eric Church has chosen to cancel a show scheduled for Saturday, April 2nd at San Antonio's AT&T Center, and with the excuse that he wants to attend a basketball game.

Granted, perhaps this isn't any basketball game. Fierce college basketball rivals the Duke Blue Devils will be taking on the North Carolina Tar Heels in the NCAA Final Four for a spot in the College Basketball championship game. It is the first time in Final Four history the two teams will square off against each other. Though not an alum of either school (Church attended Appalachian State), he is from North Carolina, and is a big Tar Heels fan.

Nonetheless, to cancel such a massive concert event to attend a basketball game is pretty extraordinary, and many ticket holders are not happy about it. At all. As one fan said, "$800 airfare for two from Miami to Austin, $950 car rental, $500/night hotel on the river in San Antonio, $2000 for 2 front row tickets (second time) all for naught. I hope North Carolina wins for your sake. I'm beyond disappointed. Damn bro."

What makes it worse is that it's happened on such short notice, and Church didn't reschedule or postpone the event, he just cancelled it outright. As illustrated above, numerous ticket holders planning to be there were flying in for the event, traveling from long distances, booked hotel rooms, planned vacation time around it, made sitting arrangements for their kids, and other non-cancel-able, non-refundable commitments, especially since the concert is in a destination city in San Antonio.

An email from Eric Church sent to ticket holders on Tuesday stated,
This Saturday, my family and I are going to stand together to cheer on the Tar Heels as the team has made it to the Final Four.

As a lifelong Carolina basketball fan, I've watched Carolina and Duke battle over the years but to have them matchup in the Final Four for the first time in history of the NCAA Tournament is any sports enthusiast dream.

This is also the most selfish thing I've ever asked the Choir to do: to give up your Saturday night plans with us so that I can have this moment with my family and sports community. However, it's that same type of passion felt by the people who fill the seats at our concerts that makes us want to be part of a crowd at a game of this significance.

Woody Durham always said, "Go where you go and do what you do," thanks for letting me go here and be with the Tar Heels."
In 2017, Chris Stapleton postponed eight shows after he broke a critical finger on his picking hand, and fans were disappointed then, and questioned if the move was warranted. And again, those were postponements, not outright cancellations. Eric Church has earned a lot of social capital with his "Church Choir" over the years by taking care of them, and some will come to his defense with his characterization of this as a "family moment."

But Eric Church fans left holding the bag in San Antonio have a right to be angry, and the situation takes a significant step in a perilous direction where privileged entertainers can cancel events on a whim to serve their own purposes as opposed to making hard working fans who've paid good money to see their favorite artists perform their priority. Massive stars like Eric Church are given opportunities average music fans can only dream of. Missing things like basketball games is a minor penance they have to pay to fulfill their performing commitments.

Before the COVID-19 pandemic hit in early 2020, cancelling concerts, dropping out of festivals, and postponing tours was strongly discouraged throughout the music industry, except for in extreme cases, like a death in one's family, or serious illness. If an artist cancelled, it could be seen as catastrophic to their careers, and artists regularly took the stage even when seriously ill to fulfill their commitments. As the old saying goes, "The show must go on," and artists that didn't go on got bad reputations. See George "No Show" Jones.

Since the pandemic though, promoters, venues, and fans seem to have a lot more stomach for cancellations, which perhaps is a good thing to some extent for musicians that a lot is expected of. But the sort of laissez-faire approach to fulfilling your concert dates by some performers post pandemic has now made fans making plans to see their favorite artists more perilous.

As venues and some artists complain about the slow progress of fans returning to full capacity, part of it is driven by apprehension by fans worried something may be cancelled right out from under them, just like Eric Church did to some 18,000 fans in San Antonio.

In 2020, Eric Church was named the CMA Entertainer of the Year in large part due to the type of precedent he set as a live performer. Hopefully, he's not setting an example his peers will follow with this move. Otherwise, it could erode the trust the public has that when they rearrange their lives and spend their hard earned money on a ticket, that experience will ultimately be fulfilled.© 2021 Saving Country Music
Kevin McCoy March 22nd, 2022
Willie Nelson's traveling Outlaw Fest will once again hit the road in 2022 with 19 dates all across the eastern United States, and with an expanded and revolving list of openers that will include some really cool names for amphitheater shows.

Chris Stapleton, The Avett Brothers, ZZ Top, and Gov'T Mule could probably sell out any one of these sheds themselves. Nathaniel Rateliff and the Night Sweats, Jason Isbell and the 400 Unit, Billy Strings, and Brothers Osborne would be right behind them. Add surging up-and-comers like Zach Bryan, Allison Russell, Charley Crockett, and War & Treaty, let alone more established names such as Steve Earle and Larkin Poe, and each one of these dates really is like a mini festival.

"Our annual Outlaw Music Festival Tour has grown to become this incredible family of artists that deliver must-see performances every night," says Keith Wortman, Co-Founder of the Outlaw Music Festival Tour, which is an extension of Blackbird Presents. "We are honored to present these once in a lifetime lineups all over the country."

And most importantly of course, it gives you the opportunity to see Willie Nelson, which you should never pass up, and lately that has also included accompaniment by his sons Lukas Nelson of Promise of the Real, and Micah Nelson, who will also be playing with his band Particle Kid on select dates.

"The Outlaw Music Festival Tour has always been about family and friends coming together for a great day of music and fun, and with the amazing group of artists joining us, this year promises to be our most special Outlaw Tour to date. I just can't wait to get back on the road again," says Willie Nelson.

Tickets on sale on March 25th.
Tour Dates & Lineups

June 24, 2022 – Hollywood Casino Amphitheatre, St. Louis, MOWillie Nelson & Family, Nathaniel Rateliff & The Night Sweats, Jason Isbell and the 400 Unit, Charley Crockett, Brittney Spence
June 25, 2022 – Van Andel Arena, Grand Rapids, MIWillie Nelson & Family, Jason Isbell and the 400 Unit, Nathaniel Rateliff & The Night Sweats, Charley Crockett, Brittney Spencer
June 26, 2022 – Ruoff Music Center, Indianapolis, INWillie Nelson & Family, Nathaniel Rateliff & The Night Sweats, Jason Isbell and the 400 Unit, Charley Crockett, Brittney Spencer July 01, 2022 – Walmart AMP, Rogers, ARWillie Nelson & Family, Brothers Osborne, Steve Earle & The Dukes, Allison Russell July 02, 2022 – Dos Equis Pavilion, Dallas, TXWillie Nelson & Family, Jason Isbell and the 400 Unit, Brothers Osborne, Charley Crockett, Steve Earle & The Dukes, Allison Russell July 29, 2022 – Blossom Music Center, Cleveland, OHWillie Nelson & Family, ZZ Top, Gov't Mule, Larkin Poe July 30, 2022 – Riverbend Music Center, Cincinnati, OHWillie Nelson & Family, ZZ Top, Gov't Mule, Larkin Poe July 31, 2022 – The Pavilion at Star Lake, Pittsburgh, PAWillie Nelson & Family, ZZ Top, Gov't Mule, Larkin Poe August 12, 2022 – Bank of New Hampshire Pavilion, Gilford, NHWillie Nelson & Family, ZZ Top, Zach Bryan, Charley Crockett, The War and Treaty August 13, 2022 – Bethel Woods Center, Bethel, NYWillie Nelson & Family, ZZ Top, Zach Bryan, Charley Crockett, The War and Treaty August 14, 2022 – Darien Lake Amphitheater, Darien, NYWillie Nelson & Family, ZZ Top, Zach Bryan, Charley Crockett, The War and Treaty September 09, 2022 – Ameris Bank Amphitheatre, Atlanta, GAWillie Nelson & Family, Jason Isbell and the 400 Unit, Billy Strings, Charley Crockett, Larkin Poe September 10, 2022 – PNC Music Pavilion, Charlotte, NCWillie Nelson & Family, Nathaniel Rateliff & The Night Sweats, Billy Strings, Charley Crockett, Larkin Poe September 11, 2022 – Veterans United Amphitheater, Virginia Beach, VAWillie Nelson & Family, Nathaniel Rateliff & The Night Sweats, Billy Strings, Larkin Poe, Brittney Spencer September 13, 2022 – Hartford HealthCare Amphitheater, Bridgeport, CTWillie Nelson & Family, Billy Strings, Larkin Poe, Brittney Spencer September 16, 2022 – Xfinity Center, Boston, MAWillie Nelson & Family, The Avett Brothers, Billy Strings, Larkin Poe, Brittney Spencer September 17, 2022 – Merriweather Post Pavilion, Columbia, MDWillie Nelson & Family, The Avett Brothers, Zach Bryan, Larkin Poe, Brittney Spencer September 18, 2022 – SPAC, Saratoga Springs, NYWillie Nelson & Family, The Avett Brothers, Billy Strings, Larkin Poe, Brittney Spencer September 23, 2022 – Waterfront Music Pavilion, Camden, NJWillie Nelson & Family, Chris Stapleton, Zach Bryan, Larkin Poe, Brittney Spencer
Kevin McCoy March 8th
Mutton Bustin' registration kicks off for Rodeo Corpus Christi
Today's the day that you can sign your little ones up for the best event of the rodeo! Registration opens at 10 a.m., so be sure to get in on the fun!
CORPUS CHRISTI, Texas — Buc Days is getting closer and we're getting our Texas on here in the station! As a reminder, today's the day to register your little buckaroo for Mutton Bustin' at Rodeo Corpus Christi!
The annual event allows little cowboys and cowgirls to show off their skills by riding sheep around the arena at the American Bank Center. The last kid to hang on wins first place!
Rodeo Corpus Christi, which is part of the Buc Days fun, kicks off on May 11th. Be sure to stay with us at KIII for more coverage of the events!
Registration opens at 10:00 a.m. and you can register online at bucdays.com/rodeo-pbr/mutton-bustin/.
Kevin McCoy February 28th
Carena Liptak Published: February 28, 2022
In 2021, Brooks & Dunn headlined their first nationwide tour in a decade, hitting amphitheaters across the country with a trek named after their 2019 Reboot album. But the party's far from finished: The duo just announced a new slate of dates for 2022, and they're hitting arenas this time around.
Kicking off May 5 in in Evansville, Ind., the 2022 Reboot Tour will bring the country duo to some cities they haven't played in over 10 years, and bandmates Kix Brooks and Ronnie Dunn promise an unforgettable onstage party that fans won't want to miss.
"It is our full intent to step onto the stage each night and throw down like the wildest honky-tonk you've never been to … yet," Dunn shares. "Don't be concerned about the mess left afterwards, y'all just enjoy yourselves and we'll worry about that later."
Joining the Country Hall of Famers on the road in 2022 is a rotating cast of stellar opening acts, including Jon Pardi, Gabby Barrett, Walker Hayes, Jordan Davis, Riley Green, Tenille Townes, Tyler Booth, Morgan Wade, Dillon Carmichael, King Calaway, Jackson Dean and Tyler Braden. Two supporting acts will join Brooks & Dunn at each stop on the tour.
Tickets for Brooks & Dunn's 2022 Reboot dates go on sale March 4 at 10AM local time, with the exception of one Nashville date in June, which will go on sale March 18. The 2022 Reboot Tour wraps on June 25 in Detroit.
Brooks & Dunn, Reboot 2022 Tour Dates:
May 5 — Evansville, Ind. w/ Jon Pardi, Tyler Booth
May 6 — Grand Rapids, Mich. – w/ Jon Pardi, Tyler Booth
May 12 — Brandon, Miss. w/ Walker Hayes, Morgan Wade
May 13 — Huntsville, Ala. w/ Walker Hayes, Morgan Wade
May 14 — Knoxville, Tenn. w/ Walker Hayes, Morgan Wade
May 20 — Wichita, Kan. w/ Jordan Davis, Jackson Dean
May 21 — Tulsa, Okla. w/ Riley Green, Jackson Dean
May 22 — Springfield, Mo. w/ Jordan Davis, Jackson Dean
June 3 — Estero, Fla. w/ Gabby Barrett, King Calaway
June 4 — Jacksonville, Fla. w/ Gabby Barrett, King Calaway
June 9 — Lafayette, La. w/ Jordan Davis, Dillon Carmichael
June 10 — Bossier City, La. w/ Jordan Davis, Dillon Carmichael
June 11 — San Antonio, Texas w/ Jordan Davis, Dillon Carmichael
June 16 — Savannah, Ga. w/ Jordan Davis, Tyler Braden
June 17 — Greenville, S.C. w/ Jordan Davis, Tyler Braden
June 18 — Nashville, Tenn. w/ TBD, Tyler Braden
June 23 — Charleston, W.V. w/ TBD, Tenille Townes
June 24 — Toledo, Ohio w/ TBD, Tenille Townes
June 25 — Detroit, Mich. w/ TBD, Tenille Townes
Kevin McCoy February 14th
© 2021 Saving Country Music
Some Cody Jinks fans happened upon the Fort Worth, TX native thanks to his 2010 album Less Wise, which included big songs such as "Hippies and Cowboys," and "Somewhere in the Middle."

But for many Cody Jinks fans, where it all initially started for them was Cody's 2015 album Adobe Sessions. Considered his masterpiece by many, the album is anchored by Cody's signature song "Loud and Heavy," and is full of one great song after another, including the Saving Country Music 2015 Song of the Year, "David."

Recorded at the Sonic Ranch just outside of El Paso, the compound's adobe walls are what gave rise to the name to the album, while the music made there is what gave rise to Cody Jinks as one of the most successful independent country artists of all time. Touring as an opener for Sturgill Simpson in 2015 as the strength of Adobe Sessions resonated throughout country fandom, it was like Cody Jinks was shot out of a cannon.

Now Adobe Sessions has officially achieved a milestone that just a few years ago seemed unattainable to independent country artists: RIAA Gold Certification for sales of 500,000 copies and streaming equivalents. Officially certified on February 8th, Jinks can add this precious metal beside his plaques for the Certified Gold song "Hippies and Cowboys," and the Certified Platinum song "Loud and Heavy"—both certified in the summer of 2020.

Released independently without a label, Cody Jinks has commemorated Adobe Sessions on numerous occasions, including a live stream he conducted on September 12th, 2020 called Unplugged & Behind the Music: Adobe Sessions that was later released as an album and has launched multiple standalone videos. And in anticipation of the Gold Certification for Adobe Sessions, Jinks made up some 180-gram double LP translucent gold vinyl editions of Adobe Sessions that are still for sale.

Along with Certified Gold albums for Purgatory by Tyler Childers, and Metamodern Sounds in Country Music by Sturgill Simpson, Adobe Sessions has gone on to define the current swell of insurgent country music.© 2021 Saving Country Music
January 25th, 2022
© 2022 Saving Country Music
In 2011, a full film production crew was on hand to chronicle an intimate concert special celebrating the 25th Anniversary of the debut album from Randy Travis, Storm of Life. What started out to be a specific project set around that anniversary has slowly morphed into something more in the aftermath of Randy's health setbacks in 2013 that took his Hall of Fame voice from us.
"Though this documentary began as a 25th Anniversary special, it quickly pivoted into a chronicled celebration of life's setups and setbacks, after my massive stroke in 2013," says Randy Travis in a statement. "The planned few months of composing, turned into 10 years—Mary and I thank the perseverance and patience of the wonderful team that waited and believed in it until completion…the ones that care and protect the legacy of my music."
The completed film project is now called More Life, and it will premier on The Circle Network on Thursday, February 10th at 8:30 P.M. Eastern.
One of the features that makes the film remarkable is that it captures Randy Travis in the final moments of his career right before the stroke. Hours of performances and interviews were collected, including the last footage of Randy Travis performing signature hits such as "Deeper Than The Holler," Diggin' Up Bones," "Three Wooden Crosses," and some of Randy's last moments before he was impaired by the stroke.
Along with Randy and his wife Mary appearing in the film, Warner Music Nashville executive Martha Sharp who gave Randy his first record deal also makes an appearance. So does Randy's longtime producer Kyle Lehning. Josh Turner also appears and performs in the film.
But of course, the biggest focus of the film is the perseverance of Randy through his health issues, from doctors advising Mary in the hospital that they should just "let him go," to battling back to continue to represent country music as an elder statesman.
"With the colorful life I've lived and four rollercoaster decades in the music and movie industry, there are infinite stories to tell in a finite timeframe," Randy's statement about the film continues. "As I watch and listen to the cadence of kind words, special memories, and well-wishes from friends and colleagues, captured in the documentary, I am reminded of the blessed life God has given me. I appreciate those who gave 'More Love' along the way, and the fans that continue to shed 'More Light' along my path. There aren't words that express the gratitude I have for the ones that came along when the day was dim, the future unknown…that gave me 'More Life.' Not feeling is final…and, I'm feeling great! Enjoy!"
The film premier will be part of a greater "Day of Randy Travis" on February 10th, which will also include the second season premier of Elizabeth Cook's fishing show, "Upstream with Elizabeth Cook," where Liz joins Randy Travis and wife Mary for a day of fishing at their home in Texas.
January 12th, 2022
The Great Chili Debate: Beans or No Beans?
Which side are you on? The way you like your chili probably depends on where you're from.By Lisa Cericola
To bean, or not to bean. When you're making a pot of chili, that is the question. And depending on whether or not you're from Texas, there is a very definitive answer.
If you're from Texas: NO.
If you're from elsewhere: Maybe.
While the origin of chili in the United States is debated among food historians, many think it was popularized in San Antonio in the 1900s by the Chili Queens, a group of women who sold a spicy meat stew around the city's Military Plaza. According to the International Chili Society, which runs several world-famous chili competitions: "The Queens, who were for the most part Mexican, made their chili at home and then loaded it onto colorful little chili wagons, on which they transported it to the plaza, along with pots, crockery, and all the other gear necessary to feed the nineteenth-century night people. They build mesquite fires on the square to keep the chili warm, lighted the wagons with colored lanterns, and squatted on the ground beside the cart, dishing out chili to customers who sat on wooden stools to eat the delightful and fiery stew."
In her cookbook United Tastes of Texas, author Jessica Dupuy writes that chili does have strong ties to Texas, even though the dish was created long before: "While many Texans might choke on a spoonful of their own bowl of red at the notion, the origins of chili really come from south of the border, in South America. The term 'chili' is short for 'chili con carne,' which translates from Spanish as chilies with meat. It's s simple phrase that most people misinterpret placing more importance on the meat, rather than the chilies. But without chilies, and their integral role in the vast majority of Mexican food, our modern day chili would be little more than a boring bowl of sautéed meat."
As chili parlors spread like wildfire across the country in the mid-1900s, the dish took on many different forms, including some with beans. Today, chili is considered a regional dish—served over spaghetti in Ohio, spooned onto Coney-style hot dogs in Michigian, and made with green chiles and pork in New Mexico, to name a few.
The ICS defines traditional red and green chili as "any kind of meat or combination of meats, cooked with red chili peppers, various spices and other ingredients, with the exception of beans and pasta which are strictly forbidden. No garnish is allowed." If that sounds a bit uptight, there is the ICS's Homestyle Chili competition which defines chili as: "the cook's favorite combination of ingredients resulting in a dish seasoned with chili peppers and spices." Bean lovers, go crazy.
Whether you fall in the beans or no beans camp, chili is one of the most satisfying ways to feed a hungry crowd. Especially when served with a hunk of cornbread on the side. Or is it Saltine crackers? That's a debate for another day…
January 5th, 2022
Any time "new to us" music is unearthed from Randy Travis, it's cause for attention and celebration. Afflicted with Aphasia after his stroke in 2013, it's unlikely new music will be forthcoming from the Hall of Fame singer and songwriter anytime soon. But having amassed such a legendary career, there are always extra tracks and unearthed recordings to be had if you dig deep enough. In 2021, Randy Travis released expanded editions of his debut album Storms of Life, and his holiday album An Old Time Christmas with previously-unheard bonus tracks.

Now, a previously-unpublished live album has appeared without any fanfare or explanation that is definitely worth checking out. Populating at the end of November/early December exclusively on YouTube (see below), the 13-track album recorded live at the legendary Gilley's night club in Pasadena, TX in 1986 captures Randy Travis in peak form right as he was breaking out nationally in country music.

Along with some of Randy's most signature songs from early in his career such as "On The Other Hand," "Storms of Life," and "1982," the album also includes Randy Travis covering songs many have never heard from him before, including "Louisiana Saturday Night," George Strait's "The Chair" written by Hank Cochran and Dean Dillon, and "American Trilogy" made popular by Mickey Newbury.

Taken from a Westwood One radio broadcast with announcer and all, what makes this recording unique is it includes all kinds of stage banter, stories, and jokes from Randy, and it comes from a legendary spot in Gilley's during a really important time in Randy's career. It really captures Randy's personality, not just his music.

There is no question these recordings are a great addition to the Randy Travis catalog. The question is where exactly they came from, and why now? The 13-song album was actually released in two separate album forms, even though both albums include the same exact music. The first is called My Wandering Ways: Live Pasedena '86 Syndicated Broadcast, and was released on November 30th, 2021 by "Carnival." The second is called Randy Travis First Impressions: The 1986 Pasadena, Texas Broadcast and was released December 3rd by "Fast Draw." These are not bootleg recordings uploaded by a random user, but official recordings auto-generated for YouTube by publishers.

Saving Country Music reached out to Randy's representative to attempt to find out more about the recordings and their release, and didn't hear back. But poking around, there doesn't seem to be any record of these albums being released previously in the internet era, or if they were, they were only in a very limited capacity. Again, they're only available on YouTube, though you can find Spotify listings for both My Wandering Ways and First Impressions, but all the tracks are grayed out and unavailable.

There was also another live recording of Randy Travis released from Gilley's in 1989 by Westwood One, but this appears to be more for radio broadcast than something for public consumption, which this 1986 was likely too originally, but has now been turned into a proper album.

Either way, it's a great recording of Randy Travis live and with professional, radio broadcast quality, and one you wouldn't find unless you went actively looking for it on YouTube. If/when more information is unearthed about these recordings, it will be updated here. And if you happen to know more, pipe up below in the comments.https://www.youtube.com/embed/of12jLqQ9rs
December 8th, 2021
Be sure to check out the West Texas Super Group The Panhandlers and check out one of their tunes on the latest episode of Yellowstone.
——————————————————————————————————————————
December 8th, 2021
© 2021 Saving Country Music
Amid the continuing effort to revitalize the legacy of Country Music Hall of Famer Conway Twitty and reconstitute his music in modern form for fans to enjoy, ten albums from the heart of Conway's career have finally been released for both streaming and download for the very first time by the Universal Music Group.

Many Conway fans have been frustrated over the holes in availability of much of his catalog in the digital space. Though some specific songs from the albums have been available for streaming or download via other releases, the albums themselves have not. The ten albums include:

The High Priest of Country Music (1975)
Now and Then (1976)
Play, Guitar Play (1977)
I've Already Loved You in My Mind (1977)
Georgia Keeps Pulling on My Ring (1978)
Conway (1978)
Cross Winds (1979)
Heart & Soul (1980)
Mr. T (1981)
Borderline (1987)

Beyond streaming or download, almost all of these titles were also never available on CD, only vinyl and cassette. 1987's Borderline was the only title ever originally released on CD. That means aside from used copies, the albums have been completely out of circulation, sometimes for 40 years.

The reissued albums include 100 total songs, 16 of which were some of Conway's 55 total #1 hits, and 3 are Certified Gold singles by the RIAA. The album The High Priest of Country Music is a fan favorite, and includes the duet "Don't Cry Joni" with Conway's daughter Joni Lee. The Cross Winds album was a big turning point in Conway's career when he began moving on from working with producer Owen Bradley, and started co-producing his own records.

The latest release of albums is part of an agreement UMG has with the Conway Twitty estate to reissue 10 albums per year until his entire discography is restored and modernized. Why UMG is only releasing 10 per year instead of reissuing the entire discography isn't entirely clear, though it likely has something to do with time and financial resources.

2021 is the 4th year of the UMG agreement, with last year seeing many of Conway's duet albums with Loretta Lynn being re-released. With the latest batch of albums, it leaves 16 of Conway's 65 total studio albums still to be issued.

In August, three famous Conway Twitty songs were finally Certified Gold in "That's My Job," "I'd Love to Lay You Down," and "Tight Fittin' Jeans." Just like the singer's discography, accounting on his sales had fallen behind, but the effort is underway to bring it all back up to speed, with further certifications likely coming in the future.

There are still more Conway Twitty titles to be restored and modernized to the streaming and download era, but this latest batch takes Twitty's tunes a step closer to being fully available for old and new fans.© 2021 Saving Country Music
——————————————————————————————————————————————-
December 1st, 2021
Rolling Stone Exclusive: Turnpike Troubadours Talk Unexpected Hiatus, Newfound Sobriety, and Surprise Reunion
With front man Evan Felker sober and refocused, the Red Dirt group end a two-year-plus break and plot a new future. "I miss playing music," Felker says, "but I don't miss being drunk and telling the same stories over and over again"
Absent from the stage and on a self-declared "indefinite hiatus" since May 2019, Turnpike Troubadours — a band known as much for its volatility as for its literary songs and stomping melodies — have hit the most-anticipated reset button in Americana music. The group will headline the venerable Red Rocks Amphitheatre outside of Denver on May 14.
The concert is part of a full-fledged return. Expect more shows — including possible appearances ahead of the Red Rocks date (tickets go on sale Friday, Dec. 3.) — and album news as the Oklahoma six-piece knocks off the dust. During an exclusive, full-band Zoom interview with Rolling Stone, the members were quick to emphasize that they have missed simply being the Turnpike Troubadours.
"There's a thing that happens when you've worked with someone for a long time that's just magic," Evan Felker, the band's front man and songwriter, says. "The chemistry that we have, and being able to play off of each other without speaking or anything like that, it's an amazing little phenomenon. And it happens for three or four minutes at a time, and I'm very appreciative of things like that now."https://cfedf43f03712b79c7dfff5bc61517e8.safeframe.googlesyndication.com/safeframe/1-0-38/html/container.html
Arriving at that appreciation, not just for Felker but the entire band, took three years of patience, uncertainty, and self-reflection. For nearly a year, the band played into a headwind of tabloid headlines and social media chaos focused on Felker's personal life and a series of abrupt, high-profile concert cancellations that left fans and venues alike seeking answers. In the time since that 2019 pause, each member found opportunities to move on to something new, but not one gave up on Turnpike.
"We're ready to get back to playing shows," Ryan Engleman, lead guitarist, says.
Adds fiddle player Kyle Nix: "We're getting the band back together!"
The Turnpike Troubadours are Felker, Nix, Engleman, R.C. Edwards on bass, Gabe Pearson on drums, and Hank Early on steel guitar and accordion. Founded in 2005 and touting four official albums, Turnpike rocketed from Oklahoma's Red Dirt scene to the pinnacle of Americana music while taking delight in remaining independent.
I came into Turnpike's orbit when all that unraveled. The last documented instance of the full band sitting for an interview, pre-hiatus, came in fall 2018, when they discussed their music with me for the book Red Dirt: Roots Music Born in Oklahoma, Raised in Texas, at Home Anywhere. A few weeks before the book's release in August 2020, Felker called. Since that interview, and the band's hiatus, Felker needed me to know he had changed. He had become sober. He had married his wife, Staci, for the second time. He had gone off the grid, spending his days working on a ranch in Southeast Texas. I rewrote Turnpike's portion of the book, and Rolling Stone excerpted Felker's phone interview.
Since then, Evan and Staci welcomed a daughter, Evangelina Hartford Felker, in January 2021, and he contributed to a virtual fundraiser for the Cystic Fibrosis Foundation organized by his friend and Old 97's front man Rhett Miller in October.
"Having Evan on the CF benefit sure was a sweet thing," Miller tells Rolling Stone. "He had done this with me a few years back, in the Before Times, live and in person, and I had a feeling that asking him to sit down and sing a couple of songs while Staci filmed him would be an easy first step back into the public eye. He did great."
After that, it seemed fitting to bookend my Turnpike chronicles with the new group interview. As it played out, each member said they stayed content, musically and personally, during the hiatus.
Nix was the most visible. He recorded and released Lightning on the Mountain & Other Short Stories, a full-length solo album featuring, as he puts it, "An assortment of story songs, and a hoedown to top it off," in June 2020. Nix wrote 15 of the album's 17 tracks, and most members of Turnpike contributed. He formed and toured with his own band, the 38's, which features Pearson on drums. For our Zoom chat, he pulled into a rest stop en route to a headlining show.
"I really just dove head-first into creating as much as I could," Nix says. "It was a therapeutic outlet. That was all I wanted to do, and all I needed to do since we weren't out on the road. But then you throw Covid in, and it was pretty tough… I fell into some rough times, started drinking a little too much. I finally had to pull my ass out of the mud and get my head straight and sober up.
"Creating has been therapy for me, trying to get better as a fiddle player, musician and songwriter," he continues. "And getting back on the road with my band has really helped. I didn't realize how much I actually missed it."
In addition to playing drums for Nix, Pearson spent the hiatus and pandemic working toward a degree from Southeastern Oklahoma State University.
"I went back to college in fall of 2019, and I'm getting close to finishing my bachelor's degree," Pearson says. "Then Kyle called me, and we've toured since the start of this summer with his band, so it's been 'go to school and play music' all day, every day for me."
Edwards, like Nix, spent the hiatus fronting another band. RC and the Ambers has always been a side project for Edwards, but he toured heavily with the group since 2019, headlining in and around his hometown of Tahlequah, Oklahoma, and finding prime spots at festivals such as the 2020 and 2021 installments of Mile 0 Fest in Key West, Florida.
"It's been really fun spending a little more time, making a record for that project, and putting it all together a little more than it was before," Edwards says. "It's more organized now, and I'm happy with it, but at the same time I'm looking forward to getting back and doing [Turnpike] again."https://cfedf43f03712b79c7dfff5bc61517e8.safeframe.googlesyndication.com/safeframe/1-0-38/html/container.html
The record mentioned was Big Country, released in September. Early produced it in his home studio in Tahlequah, part of his immersion in the region's music scene, with a major life event to cap it off: He got married.
"I moved to Tahlequah about a year before we went on hiatus," Early says "So, I've enjoyed kind of dipping my toes in the Tulsa music scene. I've gotten to play with a lot of really cool people up there. And I've spent a lot of time in my home studio. I built it out a bit, and have produced a few records for people, start to finish, right here. R.C.'s was the first, but I've done four or five projects since then. I'd never done any of that before, so it was all a new experience."
The dust had barely settled on Turnpike's 2019 break when Reckless Kelly needed a guitar player to replace David Abeyta, who left the band after 19 years as part of Willy and Cody Braun's Idaho-to-Austin roots-rock outfit. Engleman accepted and toured with Reckless for the final third of 2019, starting with an appearance at Reckless's Braun Brothers Reunion festival in Challis, Idaho. He planned to stay on the road in 2020, when the band intended to tour behind their double album American Jackpot/American Girls, but the pandemic shelved that. When Reckless finally returned to touring in summer 2021, Engleman passed on his invitation (which led to Austin pedal-steel mainstay Geoff Queen joining the band).
"I was pretty fortunate to get picked up by Reckless," Engleman says. "Those guys were great, and the amount of learning from a musical standpoint was pretty awesome. It was a lot, learning to cut back-and-forth between what I would do and what David did. It was really great, rolling along, and then Covid hit, and Reckless shut down."
Josh Crutchmer*
Willy Braun is the front man and primary songwriter for Reckless Kelly — who, along with Shovels & Rope, will join Turnpike on the May 14 bill at Red Rocks. He said Engleman's personality made touring easy for Reckless after Abeyta's departure.
"Nobody was going to play like David, so Ryan was really perfect," Braun tells Rolling Stone. "He's a versatile player who can rock out and play bluegrass, and offstage he is a really great hang. And that's almost a bigger piece of the puzzle than being a great player, when you're on the road a hundred days with someone."https://cfedf43f03712b79c7dfff5bc61517e8.safeframe.googlesyndication.com/safeframe/1-0-38/html/container.html
Engleman ended up spending the bulk of 2020 as a pandemic parent to his son, JR, currently just shy of 8 years old, and scratching a fishing itch.
"I hadn't really been home since my kid was born," Engleman says. "His school shut down, and we were trying to home-school like everybody, and it was a lot of strife for a while. But we kind of learned to live in that environment. Reckless called in February, and said, 'OK, we're ready to go if you are,' and I was so conflicted about it, but eventually told them I wanted a bit more time for myself while I had it."
Taking time for themselves was important to all of the members, but none more so than Felker.
After shifting so far out of the spotlight as to be nearly impossible to find, reconciling his marriage, getting sober, and becoming a parent, the cop-out would be to note that none of the band underwent more changes than Felker. But, typical of the contemplative front man, there's more to it than that.
A wordsmith as a songwriter — the ease with which Felker shifts between the cut-with-a-blade introspection of, say, Jason Isbell, and the whimsical pontification of, say, Todd Snider, lends a range to Turnpike's catalog that is unique even in Americana — Felker is also direct in conversation. When discussing his recent past and Turnpike's future, he does so with sincerity and charisma, noting that "well-rounded" is a better way to describe him now than any before-and-after portrait would be.
"I have not been traveling. I stayed in one spot for about the past three years," Felker says. "I head back up to Oklahoma to visit my family, and then I go back. I really did the opposite of the rest of these guys. I focused so much on my art and my creativity for so long that I let everything else slide.
"But I found sobriety and recovery, and that was the greatest thing that ever happened to me. I'm coming up on two years, completely sober and out of recovery. And a few days after that will be my daughter's first birthday, so it's all a big one," he says. "I've learned so much about how my life was not well-rounded. I mean I knew that. I knew that it was just one thing. It started out just being music, and then eventually it was just drinking, and that was it for me."https://cfedf43f03712b79c7dfff5bc61517e8.safeframe.googlesyndication.com/safeframe/1-0-38/html/container.html
According to Felker, the only way he could envision a life leading a barnstorming Americana band again was if he could first create a life as far away from it as he could get.
"There were a lot of things, when I was stuck in a room in a rehab facility, that I thought I really am going to put some time into. I wanted to be a decent carpenter, or just pie-in-the-sky things like training cattle horses and stuff. Now, I'm really able to do all that! I've learned more than ever, this cowboying stuff has changed my life drastically.
"I'm really, really happy with the things I get to spend my time on now," he continues. "I love music still, but it was time to spend a year or two and catch back up, because the person I presented myself to be — and who I thought I was — was lacking in some areas. Now, I feel like myself, and I'm proud of what I'm capable of doing. It's a nice feeling, it truly is."
Miller, who notably filled his solo and Old 97's catalogs with hard-drinking tunes before sobering up himself, can not only relate, but also offers some insight into what Felker may expect when he is behind a microphone again.
"Speaking from personal experience, it's a weird thing re-entering the world of music as a sober person," Miller says. "Most of us who wind up having problems with booze or whatever get to that point because we are using substances as a crutch to help us deal with the pressures of the job. Those pressures don't go away once we sober up, but we discover that there are healthy ways to deal with them. And guess what? Those healthy ways wind up being a lot more effective than just drowning our insecurities in booze. I love Evan like a brother and he knows that I will always have his back. I'm also a Turnpike fan and am so glad that they're going to be back together again."
Felker, for his part, also recognizes the life he currently lives is conducive to raising his daughter — Evie for short — alongside Staci.
"Being a parent, so far, for me — especially since I'm in one spot all the time; in the past year, I've probably been away from my daughter maybe 10 or 12 nights, of her entire life — is easy to do, if you're around," Felker says. "It would be trickier if I was gone a lot more. That said, Staci still has to take up all the slack. But most of what I do is around the house. I spend my time within a mile of home every day, so I always feel like I'm close."https://cfedf43f03712b79c7dfff5bc61517e8.safeframe.googlesyndication.com/safeframe/1-0-38/html/container.html
"For 10 years, I was in a bar every night. If you expose yourself to that long enough, you're going to wind up needing some help. I know I did."
When Turnpike returns to the road, fans should expect a more measured approach to tours than the "any gig, any time" outlook the band adhered to for a decade. They'll certainly aim to find as much time at home as they find under spotlights.
"We have to keep things well-rounded," Felker says. "Life has to have some sort of balance, otherwise it'll spin off into outer space. We were in the bars — for 10 years, I was in a bar every night. If you expose yourself to that long enough, you're going to wind up needing some help. I know I did. I don't miss it. I don't miss that. I miss playing music, don't get me wrong, but I don't miss being drunk and telling the same stories over and over again, not at all."
To facilitate such a balance, the band has turned to New York-based TMWRK management, which gained industry notoriety managing DJ and EDM artists such as Diplo and Cashmere Cat. But the simple act of assembling a team first meant bringing the group's six members back into the fold.
That happened in mid-November, when an afternoon of raucous laughter cut right through the hiatus and marked a fresh start for six people who, it turns out, really enjoy hanging out with one another.
"We all got together last week, and I don't know that I've ever had that good of a time in that little space of time," Engleman says. "Just giggling and cracking jokes, and seeing people you love for the first time in two, three years. Everybody's happy and having a good time."
If fans anticipated a drawn-out, detailed end to this chapter, the camaraderie won out.
"It all really did just fall into place again," Nix says. "We didn't miss a beat. It's funny how that works."
Since hitting pause, Turnpike have hung over the worlds of Red Dirt and Texas music like a haze. Festivals they would normally headline went on without the band. And while it's true the pandemic likely delayed this comeback, the fact remains that the genre will have gone nearly three years without the band when it hits the stage again.
According to Departed front man Cody Canada, one of few Red Dirt artists to have experienced heights similar to those of Turnpike Troubadours (when he fronted Cross Canadian Ragweed) and turmoil similar to Turnpike's (when Ragweed publicly split in 2010), Red Dirt without the band has not felt the same.https://cfedf43f03712b79c7dfff5bc61517e8.safeframe.googlesyndication.com/safeframe/1-0-38/html/container.html
"Turnpike is very important to Red Dirt for one reason: They're a great band with intelligent writing," Canada tells Rolling Stone. "There's no filler. No fodder. It's poetry in motion. It's music that makes you fall in love and dance. There's no gimmick."
For their part, the Turnpike Troubadours expect all of the above — the magic, the poetry and the connection — to fall into place the first time they face a crowd again.
"The energy of the crowd … I'm so excited to experience that again," Early says. "This rabid energy, to go out on the stage and have all that directed at you, it's amazing."
"I won't ever take another moment on stage for granted with those guys," Nix says. "On stage in general, it's such a blessing to be able to do something you love so much. To do it with guys that have been through everything together, I'll leave it all out there, for sure."
Felker recognizes that part of Turnpike being ready for their fans again also means embracing fans who never stopped being ready for Turnpike. He said he's looking forward to the spotlight, when it comes, and sharing it with his five bandmates.
"We're the same guys. We're not even that much older. In fact, in some ways we might be younger," Felker says. "We've also always had pretty neat chemistry with the crowd for the vast majority of our shows. And I do miss that, because that's not something you can really replicate in life. There's nothing else that gives you that."
——————————————————————————————————————————————
November15th, 2021
Get ready for a COJO Christmas!
Cody Johnson To Release First Holiday Album November 19.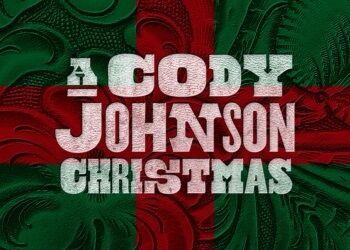 Cody Johnson brings his family's holiday traditions to life with the release of "A Cody Johnson Christmas" on Friday, Nov. 19. The singer's first holiday album includes new arrangements of "Away in a Manger" and "Silent Night." Producer Trent Willmon also wrote two original songs.
"Every song on this record holds a special memory for my family," Johnson said in a release. "I hope my fans can make their own memories listening this holiday season."
A track listing for "A Cody Johnson Christmas" follows:
"Christmas All Year Long" (Trent Willmon)
"Pretty Paper" (Willie Nelson)
"I'll Be Home for Christmas" (Kim Gannon, Walter Kent, Buck Ram)
"If We Make It Through December" (Merle Haggard)
"Away in a Manger" (arrangement by Johnson and Willmon)
"Hat Made of Mistletoe" (Trent Willmon)
"White Christmas" (Irving Berlin)
"Silent Night" feat. Clara, Brandi, and Cori Johnson (arrangement by Johnson and Willmon)
"Feliz Navidad" feat. Kevin Fowler and Roger Creager (José Feliciano)
"Santa Claus Is Back in Town" (Jerry Leiber, Mike Stoller)
——————————————————————————————————————————————-
November 8, 2021
© 2021 Saving Country Music
It's one of those opportunities you wish to experience from your favorite artists, but very rarely get to. Some long time Cody Jinks fans can remember when the Ft. Worth, TX native was traveling around in a van, and performing in places like the intimate White Water Tavern in Little Rock, Arkansas, which looks like a run down shack at an elbow in the road, and has a capacity somewhere shy of 100. But that's been years ago. Now Jinks is selling out amphitheaters and small arenas, and headlining festivals.
But on Sunday evening (11-7), some lucky bastards in Little Rock got a last minute, intimate acoustic performance that Jinks announced just hours before the doors opened. Admission? Name your price. And it all went to the Ronald McDonald House of Little Rock. It also helped to support a local venue that like so many of them over the last 18 months, has been hanging on by a shoestring.
"Last night was one of those nights that you hear about and say, damn, that kinda stuff never happens here! But it sure did," says Samantha D. Platte of Little Rock. "Cody Jinks walked right up in the White Water Tavern with probably 60 people and played for a couple hours, took requests, told stories about Ward Davis (and other things), told us how much he didn't care for Sam Hunt, and just sat back and drank some beers and laughed, and played great music! I loved every single minute of it!"
The White Water Tavern is known nationally for being a jumping off point for scores of up-and-coming artists, as well as for hosting legends in a more intimate environment. Multiple live recordings have been made there over the years as well, and the venue caters to country, Americana, and indie rock bands alike.
It appeared at one point that the venue would be one of the numerous casualties of the COVID-19 pandemic after it shut down, but Last Chance Records owner Travis Hill and his wife Natalee Miller stepped up to resuscitate the space, and it's back to hosting music full time. Some Cody Jinks fans groused that vaccine or a negative test was required for the show, completely overlooking the show was name your price for charity, and an opportunity to see Cody Jinks in the most intimate setting possible.
The White Water Tavern has been around since the 70's and has hosted many legendary shows. But Cody Jinks flanked by his guitar players playing an unexpected acoustic performance will certainly make a White Water story for the ages. The last time Jinks played Little Rock, it was at the Robinson Center, capacity 2,200, with some tickets on the secondary market going for over $200.
Cody's latest country album Mercy, along with the debut album from his heavy metal side project Caned By Nod come out this Friday, November 12th
——————————————————————————————————————————————–
Here's a great story about a great Hank inspired tune from Saving Country Music.
There's just about nothing that will give you deeper chills in country music than the delivery of the final verse in the song "The Ride" written by Gary Gentry, J. B. Detterline Jr., and performed by David Allan Coe. Even after you've listened to the song scores of times, if it's been a little while and you pipe it up again, here come the goosbumps, and the hair standing up on the back of your neck as the aspiring country performer hears the driver proclaim, "The whole world called me Hank."

It's almost like seeing a ghost, because you can almost feel the presence of Hank Williams in the song. And that may not be by accident, or coincidence.

In 1982, songwriter Gary Gentry had been involved in a film called Hank Williams Tribute — The Man and His Music that was recorded at the Mother Church of Country Music, the Ryman Auditorium in Nashville where Hank Williams held court many times before being unceremoniously removed from the Opry for excessive drinking. Some even think that the ghost of Hank Williams still haunts the Ryman itself.

Numerous sightings of Hank's ghost have been reported at the Ryman over the years, including an employee who believed they saw him materialize in a "white mist." When the 135-year-old building was being renovated in the 90's before its reopening, a construction worker also swore he saw Hank. Another individual claimed they saw Hank's ghost in the alley between The Ryman and Tootsie's Orchid Lounge.

One of the most high profile stories of Hank's presence at the Ryman happened one evening when "Whispering" Bill Anderson was backstage playing his guitar, getting ready to go on stage for the Saturday night Opry. According to Bill, shortly after he started strumming a song on his guitar that was a favorite of Hank's, everything in the building went out, including the lights, the sound equipment, and even the emergency exit lights supposedly on a backup system. No explanation was ever found for the incident, and Anderson described the experience as "eerie." "Whispering" Bill believes it was related to him performing that song.

But none of these stories are what inspired "The Ride." According to songwriter Gary Gentry, he saw the ghost of Hank Williams for himself.

While working on that Hank Williams tribute film in 1982, "The Ride" co-writer J. B. Detterline told Gary Gentry they should write a tribute song to Hank Williams and Lefty Frizzell. Apparently J.B. Detterline was a big Lefty Frizzell fan, while Gary Gentry was more of a Hank Williams fan. So that evening the two got together and wrote a tribute song to the two country legends called "Wherever Hank and Lefty Are, That's Where I Want to Go."

The two writers then parted ways at about 10:00 p.m. in the evening. But Gary Gentry wasn't satisfied. He felt like the song the two co-wrote just didn't do enough to show proper tribute to Hank Williams. Gentry was living at the Country Place Apartments at the time, and drinking a lot and "doing other stuff" according to the songwriter. He lit some candles, and performed a sort of redneck seance, trying to conjure the spirit of Hank Williams.

"I wanted to write a masterpiece about Hank," Gary recalled in 2015. "And I was mad, and I was drunk. So I said, 'Hank! Why were you so big? Just because you died young? Show yourself! Help me write this song."

Apparently after the evocation, none other than Hank Williams appeared without a shirt on, sitting on Gary Gentry's couch. "And I said, 'Hank, we're gonna take a ride. I wanna write about you. I think you're the greatest songwriter and entertainer that ever lived.' Thus, 'The Ride,' at 4 o'clock in the morning."

Gary Gentry then called J.B. Detterline, who was asleep (and whose wife was pregnant), and they completed the song. David Allan Coe eventually recorded it, and it was released as a single on February 28th, 1983.

When being interviewed by Billboard in 1983 about "The Ride," Gary Gentry told the magazine, "There's a mysterious magic connected with this song that spells cold chills, leading me to believe that it was meant to be and that David Allan Coe was meant to record it." Though Gentry doesn't mention seeing Hank's ghost in the Billboard article, he does mention that when writing the song, he opened up the Hank Williams biography to check the date of his death, and opened the book to the exact page where it was written.

But that's not all. Shortly after David Allan Coe released "The Ride," Gary Gentry performed the song at the Grand Ole Opry House for a television show. Right when he got to "Hank" in the big payoff line, the lights and electricity at not just the Opry House, but the entire Opryland complex went completely out, similar the the experience Bill Anderson had at the Ryman Auditorium. Numerous news outlets reported on the incident at the time.

Did Gary Gentry really co-write "The Ride" with the ghost of Hank Williams? Did Hank really make the lights go out at The Ryman and the Opry House when his name and memory were being evoked? Conventional wisdom would tell us "no." But if you've ever felt those chills when listening to "The Ride," you know there's something going on, and it certainly doesn't feel like it's of this world.

The story of "The Ride" takes place on U.S. Route 31, which roughly parallels Interstate 65. It hit #4 on the Billboard Hot Country Songs chart, making it Coe's biggest hit up to that point (eclipsed by "Mona Lisa Lost Her Smile" in 1984).

Watch Video
——————————————————————————————————————————————-
The Texas Monthly Top 50 Texas BBQ Joints is out! I hope to try them all.

Just a decade ago, Texans took our state's basic barbecue meal for granted. It was the sacred trinity of brisket, pork spareribs, and sausage, served with potato salad, coleslaw, and beans on the side. The biggest decision diners had to make was whether they wanted ice cream with their peach cobbler. The lineup seemed as fixed as the brick barbecue pits in which the meats were smoked.
And it wasn't just the menu that was unchanging. Places and personalities seemed perennial as well. Two of the many truths we held to be self-evident were these: Lockhart was the unchallenged capital of Texas barbecue, and Snow's BBQ, in Lexington, and Franklin Barbecue, in Austin, were the best joints in the state. That pair of enormously admired institutions captured the number one and two spots on Texas Monthly's 2013 and 2017 lists of the fifty best barbecue joints (Snow's also ranked first in 2008, before Franklin opened). They epitomized old-school Texas barbecue at its finest. Aspiring and veteran pitmasters alike visited them as if they were shrines.
But in the past half decade or so, we've begun to notice that the winds of change are growing quite gusty. In cities and towns across the state, new joints have been opening, and young, ambitious pitmasters have been getting into the game. Because they've been inspired by Texas's long and storied barbecue tradition, the Texas trinity still dominates, and brisket has only gotten more popular (and expensive). That said, the upstarts have lots of new ideas.
What distinguishes the Texas barbecue scene today? In a word: surprises. In another word: variety. We're talking bacon burnt ends, beef cheeks, birria, blueberry-and-Gouda sausage, brisket-topped elote, and guava-glazed pork ribs. And those are just the meat offerings. Side dishes and desserts range as far afield as Big Red tres leches cake, blistered brussels sprouts, carrot soufflé, citrus-beet salad, and brisket fried rice. And we haven't even gotten to the wine lists.
As you would expect at a time of transformation, compiling our Top 50 list was a challenge. Even we were shocked by some of the changes we felt compelled to make. The former lodestars in our firmament, Snow's and Franklin, no longer occupy our first or second spots (though both made the top ten and are absolutely worth visiting). For the first time, sadly, no Lockhart joints made the list (though the venerated Kreuz Market does appear in our Honorable Mentions). But the flip side of those descents is that Texas barbecue boasts an exciting freshman class: 29 of the 50 entries are new to the list, including the rookie establishment that vaulted to our number one spot.
In short, if you were hoping for an argument that innovation is getting out of hand and it's time to retrench and return to the simpler days of barbecue, you won't find it here. But have no fear: if you're an old-school stalwart who blanches at the thought of smoked cauliflower, plenty of places on our list will make you very happy.
Is Texas barbecue losing its soul, as some might fear? No. The staples aren't going anywhere, and the rising generation of pitmasters prepares them as well as—and often better than—anyone ever has. The up-and-comers aren't erasing anything; they're adding to what we have and paying tribute to our culinary heritage by reinvigorating it.
Welcome to the brave new era of Texas barbecue. The best is yet to come.
https://www.texasmonthly.com/interactive/top-50-bbq-2021/
——————————————————————————————————————————————
Reba McEntire Doesn't Sound Too Upset About Losing Her CMA Awards Hosting Job


"I do love doing awards shows," she eagerly tells Taste of Country Nights. "They're a lot of fun and exciting. It's adrenaline-flowing."
In breaking the news of a new host for 2021, Billboard added up a historic 20 country awards shows that were hosted or co-hosted by McEntire. Blake Shelton, Vince Gill, Hank Williams Jr. and Randy Travis were just a few of her co-hosts along the way. The hardest part, she shares, is finding clothes to host, because you have to wear outfits that are fresh and truly unique. Off-the-rack items just won't do for country music's biggest nights.
As for who should host next? McEntire wouldn't offer an opinion, but she did readily offer advice to anyone interested in hosting, noting that it takes one special quality.
——————————————————————————————————————————————–
Willie has more new music on the way. A true Texas treasure!
Willie Nelson – Family Bible
"Family Bible" is five decades old and hearkens back to the "Red Headed Strangers" roots as a Nashville songsmith. It's the lead single from his forthcoming second album of 2021, The Willie Nelson Family. As alluded to via the title, the release will include Nelson's sister Bobbi, his sons Lukas and Micah, and his daughters Amy and Paula. Also featured is Paul English, Nelson's longtime drummer and friend, who died early last year at 87.
——————————————————————————————————————————————-
Rich O'Toole's "17 Wild Horses" Music Video Officially Selected For Two Texas Film Festivals:
Nashville, TN – Buffalo Roam Records' recording artist Rich O'Toole's cinematic music video, "17 Wild Horses," was officially selected for inclusion in two Texas film festivals – "Deep in the Heart Film Festival," held in late July 2021 in Waco, and the "Austin Spotlight Film Festival," on September 18, 2021, in Austin.
Beautifully filmed on the Texas plains at CK Reid's ranch, the provider of bucking broncos and bulls for Billy Bob's Texas (the world's largest honky-tonk) live rodeos, the video was directed and edited by Kasey James and Ted Borel with Playlist Films. Upon release, the video premiered on Taste of Country.
Penned by Rich O'Toole, "17 Wild Horses" is currently climbing the Texas Regional CDX Singles Chart, and the video is sitting at #10 on The Country Network's Top 10 Video Countdown. "17 Wild Horses" is featured on O'Toole's new album, "New York," released last year.
——————————————————————————————————————————————–
Jon Wolf has a great new album now! Here's a nice review from Saving Country Music.
Country music is like that old pair of blue jeans you have in the back of the closet. Even if current trends try to tell you they're not hip in the here and now, just wait awhile. Time will come back around to them. As some mainstream artists and new up-and-comers try to hitch their wagon to the retrospective popularity of 80's and 90's country sounds, guys and gals that were born and raised on the stuff are looking around and saying, "Where y'all been?" And when they strike up and play, they prove they're old pros at country music that actually sounds country, instead of trying to hitch a ride on a passing train.
It's been 18 years since this Oklahoma native was transferred from an oil trading desk in Chicago down to Houston, and found himself sharing a room with Hayes Carll, and later at a concert for the legendary country band Alabama, and afterwards picking guitars on a bus with a bunch of musicians and thinking, "Hell, I can probably do this for a living too."
It's pretty rare that seven albums and 17 years into a career that an artist finds their stride, but that's the determination many are coming to with Jon Wolfe's Dos Corazones, and for fair reasons. Inspired, passionate, well-written, and consistently enjoyable throughout, it feels like one of those career-defining records. Usually when you see an album with 17 tracks, you grimace. It often means someone forgot to trim the fat. But Jon Wolfe's first album in four years is nearly all muscle, and heart.
Sure, some of the songs are not the headiest of material. And sometimes the beer and whiskey references get you worried it's veering a little too far into country music cliche. A song like "Tequila Sundown" has probably been done more times than it deserves. But nobody would quibble with your pronouncement that this album is country. In fact you could consider this album whose title translates to "Two Hearts" is like a love letter to the genre, and in more ways than one.
Dos Corazones was mostly written in the Chihuahuan desert on a retreat Wolfe took with his producer Dave Brainard and songwriter Tony Ramey. Sometimes these songwriting soirees sound all poetic and erudite, but still result in the same ol' raisin bran. But in this case when the results are songs like the Western-infused "Two Hearts in Terlingua," or later the certified heartbreaker "Anybody Playin' Sad Songs," there's no reason the second guess the recipe.
This isn't a concept record per se, but there is a bit of a reflective undertone to every song of this Western-flavored country epic—an orange-pink hue to the skyline as the sun sets behind the broken peaks that you can't help but envision as each song on the album plays. One of the ways they were able to successfully stretch the project to 17 tracks was by picking the pocket of songwriter Josh Thompson, who seems to be contributing to many of the good records in country music these days. Thompson co-wrote "That's What I'm Doin'," which is one of the serious shit kickers on the record, as well as "Waitin' on a Dog to Bark," which could have turned out trite, but really hits home.
Dos Corazones doesn't just show respect to country music by honoring the roots with the sounds, approach, and instrumentation. In songs like "Here's To All My Heroes," "When The Good Ol' Boys Age Out," and "Anybody Playin' Sad Songs" it speaks to the reverence Jon Wolfe and his songwriters have for the music. "Why Can't You (Conrad's Song)" gives the album that touching moment it needed, and the way the release incorporates a visual component by assigning each song its own artwork gives the album a cinematic feel.
Sensible, but still sentimental and deep enough in moments, Dos Corazones is easy to enjoy and hard to deny, and producer Dave Brainard didn't get lured into trying to make Jon Wolfe into anything but what he is, which is a guy from Oklahoma who just wants to write and play country music the right way. If the radio in Texas plays it, and people show up to hear it, even better.
Dos Corazones is one of those records you hope your favorite artists turn in, as opposed to the album you often get, especially later in their career when the hunger has subsided, and they've hit cruise control. Bringing a strong vision to the conception and writing of this album, and then making it come alive in the studio renders Dos Corazones a modern country and Western gem.
One of the most successful and influential duos in country music history can now claim the distinction of being Country Music Hall of Famers. Naomi and Wynonna—the mother and daughter combination known collectively as The Judds—have just been named the newest inductees into the Country Music Hall of Fame in the Modern Era category.
The announcement came Monday morning (8-16) in a press conference held by the CMA in Nashville. Ray Charles was also announced as the Veterans Era inductee.
Congratulations to Texas-based performer and songwriter Wade Bowen! Wade has signed a worldwide publishing deal with Warner Chappell Music Nashville.The BMI songwriter that is managed by Red Light Management and represented by WME. "So excited to be a part of the Warner Chappell Nashville family and for what's to come!" said Wade Bowen.
.
Cody Johnson plans to put out a double album this fall, he will share two new tracks per month leading up to the project's release day. Here are the new ones. "God Bless the Boy (Cori's Song)" and "Stronger" his two new tracks for the month of July.
On This Day: Whataburger granted trademark in Corpus Christi in 1950
One of my all-time favorite bands are calling it quits.
An era is ending for country music in Dallas, TX, as the city's most beloved local honky tonk band has decided to call it quits after over two decades of scooting boots across floors, opening shows for the big names rolling through town, and playing residencies that have gone on to become legendary.
About the same time in the late 90's when some of the biggest names in Texas country from Austin and elsewhere were really starting to sizzle, and the Red Dirt acts from Oklahoma were rearing out of Stillwater and starting to make some national noise, a little band called Eleven Hundred Springs was formed in Dallas, TX by two former bandmates of a rockabilly band: singer, guitarist, and primary songwriter Matt Hillyer, and bass player Steven Berg.
At the time, Dallas was not exactly seen as a haven for country music. It was the home of cover bands and The Dallas Cowboys—a halfway stop between Austin and Stillwater that was a bit too metropolitan for honky tonkers or country rockers. But undaunted, Eleven Hundred Springs released a debut record, and launched a now legendary residency at the Dallas club called Adair's where they recorded their second record live, and started garnering a local following from their throwback style and authentic country songs that carried a little spunk from the songwriting of Matt Hillyer.
On Wednesday evening, June 9th, Matt Hillyer announced that the band would be playing a few final shows, and then would officially be moving on. "After many hours of phone conversations, long emails, zooms, etc. with my homeboy Steve Berg, it is with bittersweet feelings that we've decided to bring the band to an end," Hillyer said in a statement.
The lineup of Eleven Hundred Springs changed quite a few times over the years, and also worked as a proving ground. Chris Claridy who now picks guitar with Cody Jinks once played in the band, as did drummer Arjuna Contreras of The Reverend Horton Heat. But what Matt Hillyer and bassist Steven Berg initially built turned into an institution of Dallas country music.
Over the years, Eleven Hundred Springs would stretch their footprint beyond Dallas and Texas as well, but they found their calling as Dallas's country music house band, becoming synonymous with the city, and the only right answer when someone asked who one of the coolest country bands in the DFW area were. Focusing on cementing a legacy in Dallas instead of a national perspective has made them legendary in their own way, and brought them fans from around the world.
Matt Hillyer says the pandemic had put a strain on the band, who released their last album Here 'Tis in January of 2020, planning to tour behind it before the lock downs hit. This also gave founding member and bass player Steve Berg some time to reflect on life.
"Where Steve found himself was needing to live a life where his focus was more on his family. I 100% understand this," says Hillyer. "We discussed at length the prospect of continuing with a different bass player. While I was never into that idea, I was less into it the more I thought about it. For one thing, I have too much respect for what we've done together than to treat it like less than what it is. Secondly, there are a lot of things I want to explore independent from the band."
Matt Hillyer has always been a personality in Texas music and beyond, and will continue in that role as a solo artist.
"Our plan is to finish our documentary and to play a handful of farewell shows between now and the fall. We really hope to see everyone there. As for my personal direction in the future, I have been writing quite a bit during the last year. I plan to be recording these songs for future release. I'll still be making music out there and you can still come hear me sing your favorite Eleven Hundred songs as well as new material. I'd be remiss if I didn't say how grateful I am to have shared the stage with all the musicians who've been in the band over the years, particularly our latest line up Steve Berg, Jordan Hendrix, Chad Rueffer, Ray Austin, and Christian Dorn. I love you guys."
Kevin McCoy June 3rd, 2021
Look for yourself on TV if you went to Rodeo CC!
RODEO CORPUS CHRISTI WCRA TRIPLE CROWN OF RODEO
TO AIR ON CBS TELEVISION NETWORK ON SATURDAY, JUNE 6
–Broadcast Set to Air at Noon CT–
AUSTIN, TEXAS – The WCRA (World Champions Rodeo Alliance) announced today
the 27-athlete roster who will compete at the Rodeo Corpus Christi on the CBS
Television Network on Saturday, June 6 at 12 PM, CT. Rodeo Corpus Christi is the first
2021 WCRA Major Rodeo and the first stop of the 2021 WCRA $1 Million Triple Crown
of Rodeo.
Kevin McCoy May 20th, 2021
Congrats to Phil Mickelson! Still has it at 50.
How Phil Mickelson stunned golf by becoming the oldest major champion
Kevin McCoy May 20th, 2021
Morgan Wallen's clawing his way back from the racial slur controversy … and he's got Kid Rock to thank for getting him back on a stage to perform live.Morgan was at Kid's Big Ass Honky Tonk bar Wednesday night in Nashville and got on the mic in front of what looked like a packed house. This was his first time singing since he was seen in January casually dropping the n-word at the end of a drunken night with friends, and you can tell he had some nerves.(TMZ)
Kevin McCoy April 29th, 2021
Happy 88th birthday Willie Nelson!

"He's a carved-in-granite, samurai poet warrior Gypsy guitar-pickin' wild man with a heart as big as Texas and the greatest sense of humor in the West." —– Texan Kris Kristofferson, speaking about his friend and fellow Texan Willie Nelson.
Kevin McCoy April 22nd, 2021

April 22nd, 1975 when Charlie Rich whipped out his lighter, and burned the card announcing John Denver as the 1975 CMA Entertainer of the Year, it was considered to be one of the greatest moments of protest in country music history, if not the greatest.
Kevin McCoy April 7th, 2021
Look for KFTX at Rodeo Corpus Christi!
Rodeo Corpus Christi presented by Miller Lite has announced that they have partnered with the World Champions Rodeo Alliance (WCRA).
The Rodeo Corpus Christi, the first 2021 WCRA Triple Crown event of the year, will pay out $545,000 and run May 6-9, 2021.
This innovative approach to Rodeo allows the Buccaneer Commission to grow prize money for rodeo athletes, showcase the city of Corpus Christi, and ultimately return more dollars toward scholarships for students in South Texas.
Kevin McCoy March 29th, 2021
Music is back at Whataburger Field. Midland, Haily Whitters and Flatland Calvary live! Congrats to all the KFTX winners that watched poolside!
Kevin McCoy March 22nd, 2021
Check out the We Are Texas Benefit. Great Performances from Texas legends including George Strait!
Kevin McCoy March 8th, 2021
Here's a great article on Bum Phillips and the Houston Oilers. I used to watch their training camp in San Angelo when I was a kid.
Dave Wilson ESPN Staff Writer
In the late 1970s, Houston was booming, being country was cool and nobody was as country as the Oilers.
Coached by a man named Bum and powered by a running back named Earl, both every bit a one-name Texas icon like Willie or Waylon, the NFL team and the city were simpatico.
Bum Phillips grew up working cattle in Orange, Texas, about 120 miles from Houston, before he became a successful high school and college coach, while wearing cowboy boots and a Stetson hat on the sideline (just not in the Astrodome, because his mama taught him never to wear a hat indoors). Earl Campbell grew up in the rose fields of East Texas and had already become a legend as a high school senior in Tyler before winning a Heisman Trophy at the University of Texas. The two had an instant connection. They already had a mutual friend: Willie Nelson.
Together, Bum and Earl became the faces of a franchise that finally allowed Houston to escape the enormous shadow of the Dallas Cowboys, coinciding with Houston's rise as the country's fastest-growing city and a depiction in "Urban Cowboy" as the center of the country-western universe.
With stars such as Campbell, Elvin Bethea, Robert Brazile, Dan Pastorini and later Kenny Stabler, the Oilers were a tight-knit brotherhood who wore big belt buckles and bigger cowboy hats, hung with the locals at the honky-tonk Gilley's — just like John Travolta — and rode horses at their coach's ranch.
"The football players that we had on our football team kind of meshed with the town," Phillips told NFL Films a few years before his death in 2013. "That situation hit just right at the right time."
For Houstonians, that era still lingers as the standard by which all teams are measured.
"There was a very big sense of pride that the Oilers were just so Texas," said Houston rapper Bun B, who grew up idolizing Campbell. "Like from player to coach, it's all Texas. I mean, we loved the Oilers. There wasn't any other option, because the only other option is the Cowboys, and that's not even an option. That's just like Blue Bell ice cream, you know? There's Blue Bell ice cream or we're not eating ice cream."
https://www.espn.com/nfl/story/_/id/31003656/luv-ya-blue-houston-oilers-bum-phillips-earl-campbell
Kevin McCoy March 1st, 2021
Thanks to the National Professional Bull Riders for having KFTX out to Kingsville this weekend. We had a blast!
Listen to Kevin McCoy 3-7 all week for your chance to identify the
Real Country Mystery Artist of the Day. When he tells you to call,
Be the 5th caller to play for a chance to win a $20 Whataburger Gift Card.
Kevin McCoy DECEMBER 10th, 2020
Tim McGraw's Christmas Tree Is Bigger Than Yours. Looks Like He Is Taking Christmas to the Next Level This Year!
-Kevin McCoy
r
—————————————————————————————————————————————————————————————————————————————————
Kevin McCoy NOVEMBER 18th, 2020
Looks like the Harbor Bridge is coming along. This isn't our first rodeo. Construction of the Corpus Christi Harbor Bridge, 1960 Courtesy TXDOT.
-Kevin McCoy
---
Kevin McCoy NOVEMBER 13th, 2020
A friendly reminder to stay in-season with your hat choices.
-Kevin McCoy
Respect the Tradition: The 5 Rules of Proper Cowboy Hat Etiquette
————————————————————————————————————————————–
Jerry Jeff Walker's 'Viva Terlingua': Inside the Fringe Country Album
Released in 1973, the live recording helped define country music's counterculture via songs like "Up Against the Wall Redneck Mother"